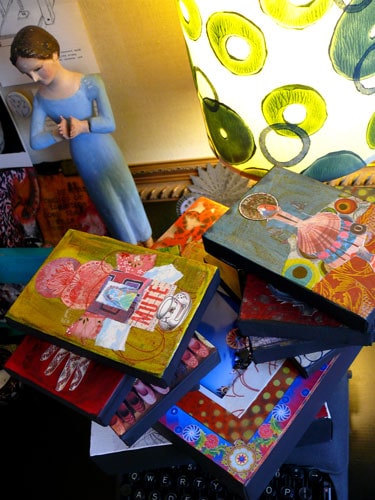 I've been working on finishing up some more canvases for the upcoming Longmont Studio Tour that will be held September 19 and 20. I'll be sharing space at Stephanie's wonderful Mango Studio. A trip to her studio is completely worthy of a stop and on top of that we'll have many fine pieces of affordable art to offer up as well as some lovely refreshments. Please stop by if you are in the area. The Studio Tour this year has well over 50 amazing artists participating. You can see a preview of the artist's work and pick up a map at the Muse Gallery on Main Street in Longmont or check out their website here.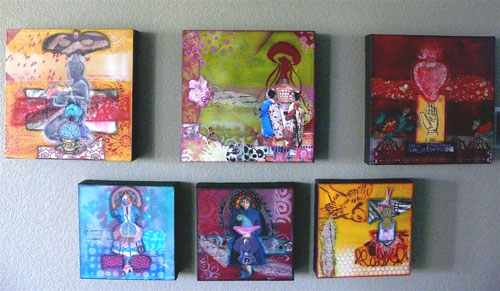 For this year's tour I've been playing around with ways to take my journaling to a canvas. Working in a visual journal is where I want to be. I love the book form, the pages, the story and the journey a journal takes me on. But it's hard to share with other people and even harder to hang on the wall. So this year I have been experimenting with taking the page to the canvas. I'll have 18 pieces to share along with…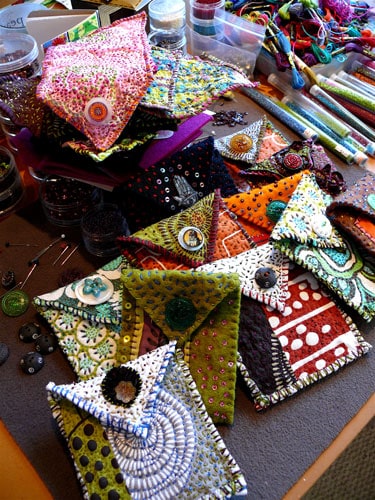 …16 iPod cases. That's what I call them because the first one I made was for my iPod, but they are fiber envelopes that could be used for anything.
I still have a ways to go on finishing up both the paintings and the iPod cases, but it's all good. Hope you can stop by.