September 2, 2018 – September 8, 2018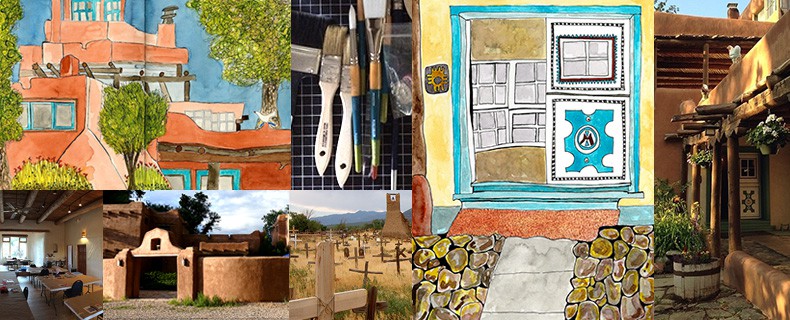 "start close in, don't take the second step or the third, start with the first thing close in. the step you don't want to take. start right now. take a small step you can call your own. don't follow someone else's heroics, be humble and focused. start close in, don't mistake that other for your own."
– David Whyte
The Taos Studio Retreat offers a Communal Studio Residency, with a Taos artist studio tour and options for field trips. This is not a workshop and there is no formal instruction. This special week is for artists who enjoy working independently in a creative community.
The romance of running away to be an artist in Taos, never grows old. Georgia O'Keeffe did it, as did many others. Now it's your turn. Make a plan to join 12 other artists, and spend a week in our studio at the Mabel Dodge Luhan House. Here, inspired by the creative environment, and nourished with meals from Mabel's kitchen, you'll have six full days to let your art flourish. This is the magic of our unique artist-in-residence program. Do you have a project you've been wanting to start? A painting you've been longing to work on? A drawing practice that needs some attention and inspiration? Have a new artistic endeavor that needs a week to explore? This is the place you've been looking for. Be inspired by the spirit of Taos, Mabel Dodge Luhan and her beautiful home.
The week is organized as a communal studio for those who enjoy working independently in the company of like-minded artists. The days are open to pursue your art and explore Taos. We aim to create an inspiring setting where each of us will be stimulated to do our best work. Participants will be responsible for supplying their own materials and direction. The studio will be open 24 hours a day. Each artist is provided with a 3' x 8' table to work on, and an accompanying wall space.
The day will begin with breakfast at 8:00, a brief meeting at 9:00 am, after which participants are free to work as they choose in or out of the studio. We'll meet at Mabel's table for dinner and conversation in the evening. The studio visit and optional field trips will be announced ahead of time so that artists can plan their days effectively. Feedback sessions and critiques will be organized if the group so desires.
The fee of $1280 includes program fee, most meals (6 breakfasts and 5 dinners, and a double room), $300 single room supplement.  Participants will arrange for their own lunches, and one night is open to have dinner in town.
All experienced artists are welcome.
If you have questions about the program, feel free to email or call Fran Meneley directly at 303.517.0346 or fran@athandstudio.com.
To enroll, contact the Mabel Dodge Luhan House at 1-800-846-2235 or mabel@mabeldodgeluhan.com
Read about Taos here, Mabel Dodge Luhan here, her beautiful house here. Past blog posts about my time in Taos, here, here and here.