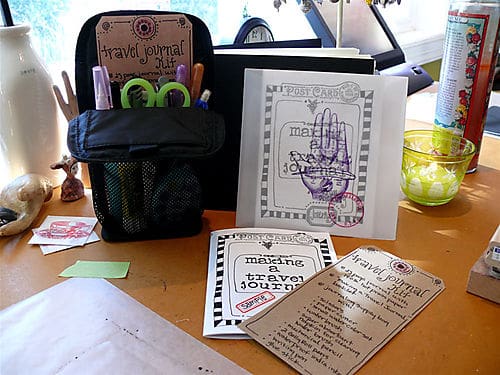 Whew! I've gotten upacked, taken a deep breath, enjoyed the fall shadows and now I'd like to offer some of my Studio Tour goodies for sale right here. I have a few Travel Journal Kits left, if you are interested. They would make a fantastic gift for anyone (including a self-gift – the best kind) who loves to travel and wants to journal their journey. Like I say in my little book that comes in the kit, you don't have to be an "artist", just someone who is interested in recording their travels. With some scissors, a glue stick and some simple pens you can make a really cool record of your sojourn. Each kit comes with:
**25 page journal that I had made with 140 lb. hot press Fabriano watercolor paper
  
**Original "Making A Travel Journal" booklet which tells you how to go about making a travel journal
  
**Journaling Supply Bag with: 
small scissors

paper cutter for when the airlines take away your scissors

small watercolor set

japanese water brush (fill with water and use with small watercolors for a little color)

my favorite super-absorbent napkin for cleaning above mentioned water brush

mechanical pencil

two gelly roll colored pens

waterproof india ink pen, won't smear with spills or with a bit of watercolor

writing pen

glue stick

white crayon for creating watercolor resist effect

 
  
This is the kit that I take on my journeys and it's been honed over the years. It's $75 and I'll ship it lickety-split.
These little iPod cases are ready for their (extreme) close-up, Mr. De Mille.
This little beauty above and the ones shown below are available for $65 – they are about 5 1/2 inches tall and 4 1/4 inches wide. I started making them because I couldn't find a cool case for my iPod, but my friends use them for business cards, credit cards, even their phones. Way cool. One of kind. Unique. Completely hand made. I've shown the front and back. They have a sturdy snap closure.
Know a chef? Or foodie?
Prayers in flight.
Blackbird and my, I crack myself up, fish guy.
Shop early. Buy handmade. 
Shoot me an email at fm2@att.net and we can make the arrangements.