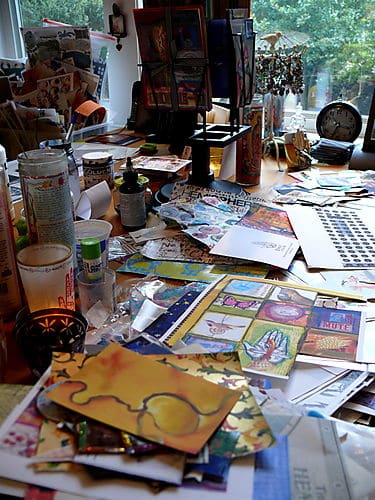 Well, the gel medium's been flying around the studio this week and the work table's been in high gear. The Studio Tour starts tomorrow and I've run out of time. I finally reached a point yesterday where I simply could not design one more thing, choose one more collage piece or make one more french knot. I threw up my hands in creative overload and said, "enough"! So here's a little stroll through what I'll be selling at Stephanie's this weekend. I know between Lisa and Stephanie and I, we will have some amazing art in the most lovely and charming setting (Stephanie's house). So stop on by!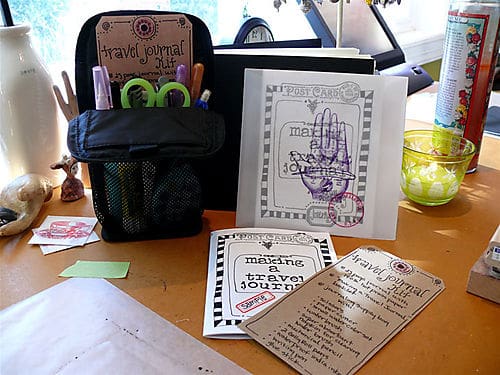 I made these travel kits for anyone who would like to journal their journeys like I do. I made a little book that gives lots of ideas that have guided me on the road, along with a little zippered bag that includes my go-to pens and tools. Also a journal that I had made out of the wonderful Fabriano artistico paper that I love so much.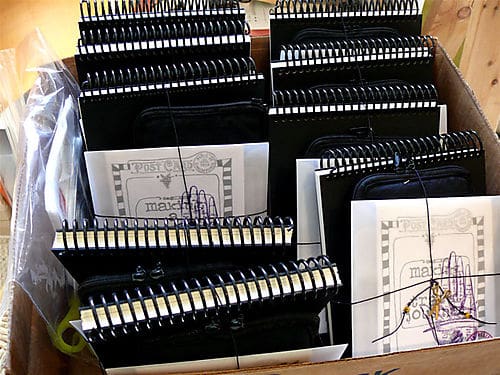 They are all packed up and ready to head out the door.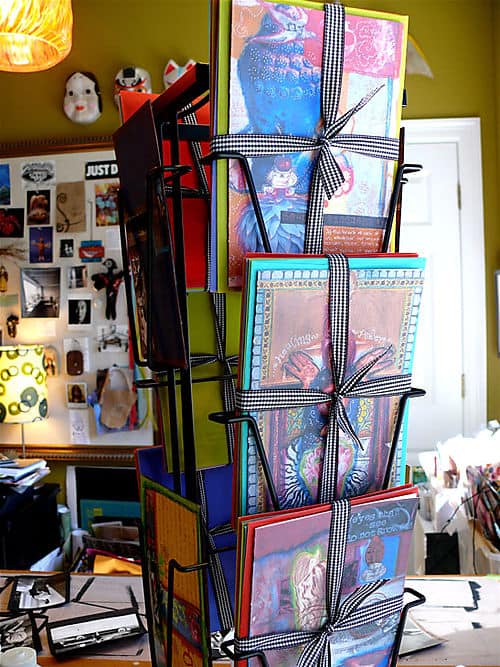 I made up some card sets of my journal pages – 7 to a package, tied in checked ribbon.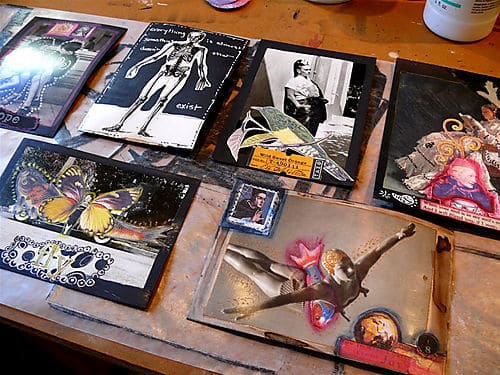 I spent the day before yesterday, whipping up some altered postcards.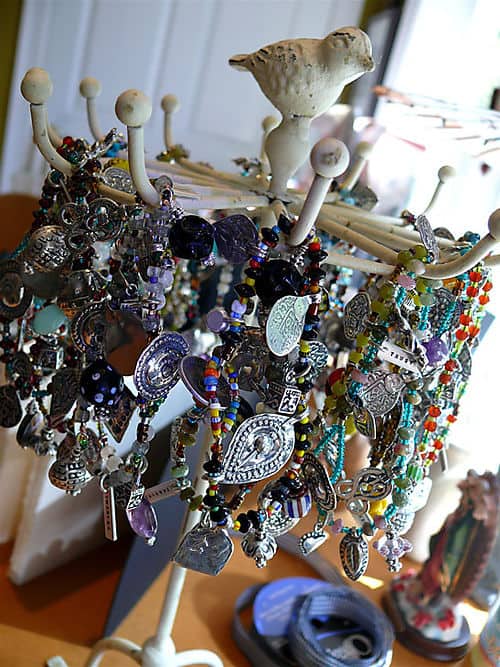 I also made some charm bracelets, with silver charms and vintage beads.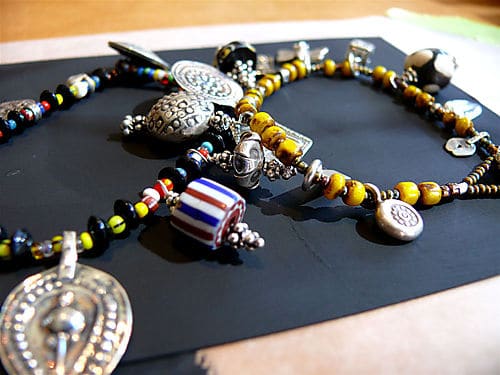 Here's a closer look.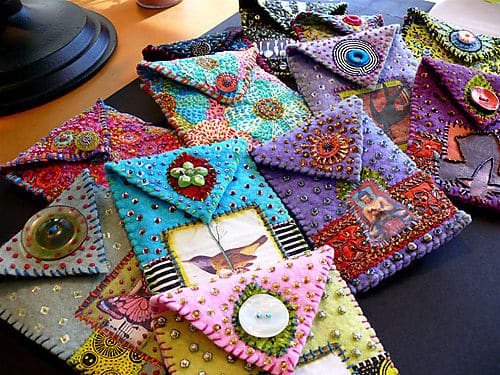 And these are the iPod cases I previewed one day last spring and promised to show when they were finished. So here they are! They were fun to make and I did most of them over the long winter in the evenings.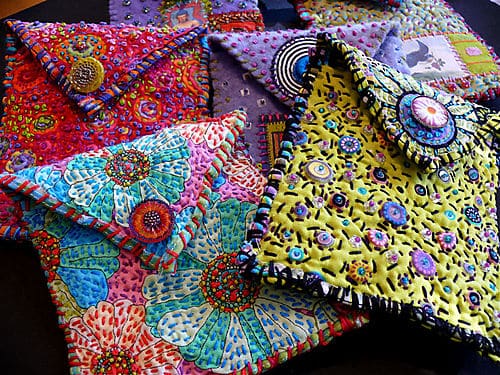 This design especially kept my fingers sore.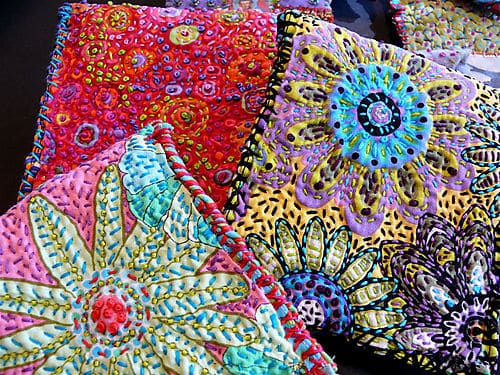 I don't know what got into me. I have this obsession sometimes for detail. That's why it was both scary and a relief to work in Taos with the paper and the scissors. Big, bold, not planned, no detail. But then it's so comforting to circle back around to the detail. In a past life I think I must have been in some kind of artist's guild during the Renaissance that made finely detailed dresses for the Medicis of Florence. There is just such a knowing comfort in all the stitching and beadwork.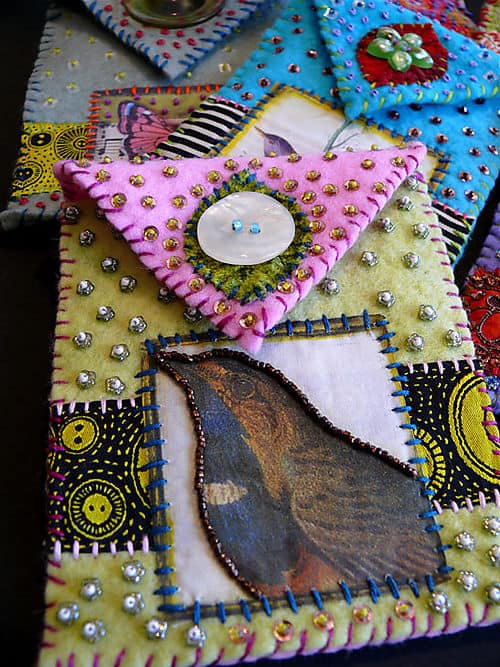 This birdie is ready to fly….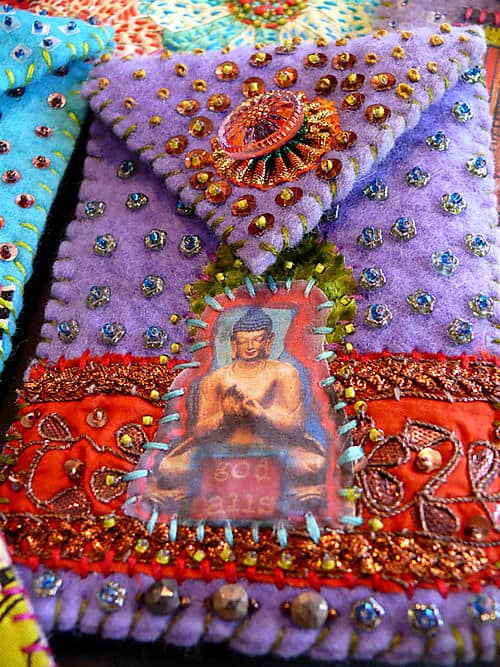 and the buddha tells it true…
Have a great weekend. If you are in the area, stop by, and if not, I hope you enjoyed the virtual studio tour. I'll post more pics next week from Stephanie's house!