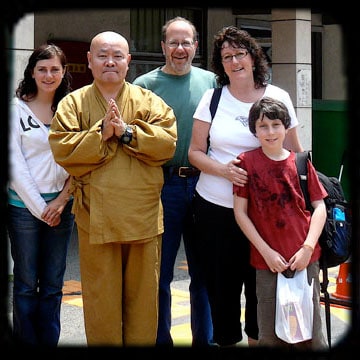 This is a photo of us with our favorite monk from the Sekisho-in monastery where we stayed. He spoke no english and we no japanese, but we communicated just fine most of the time. He greeted us each day and lead the meditation service each morning. He kindly gave us a ride to the cable car station as we were leaving. He embodied the whole spirit of Koya-san for me. Quiet, centered, compassionate and full of life with a twinkle in his eye. His beautiful face and spirit looked so much like several of the buddha we saw in the cemetery the next day, I think being a monk is truly his destiny. You'll see.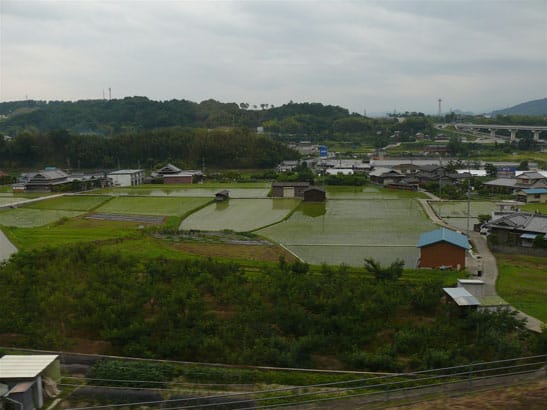 It took a couple of hours from Nagoya by, subway, shinkansen, subway,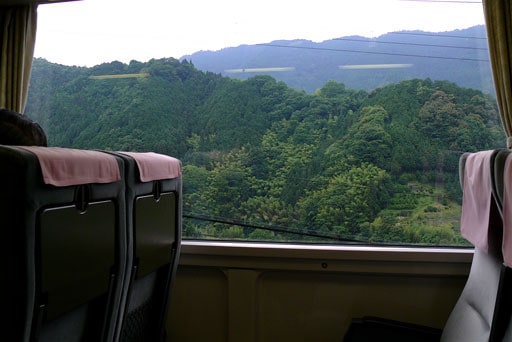 local train,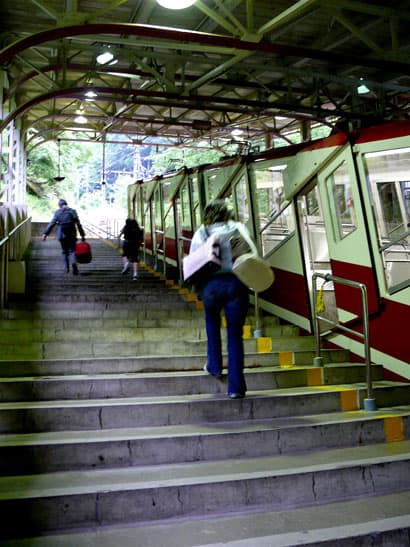 cable car and finally a bus, to get to Koya-san. I know it is possible to drive there, but this way we saw the countryside and had the full public transport experience.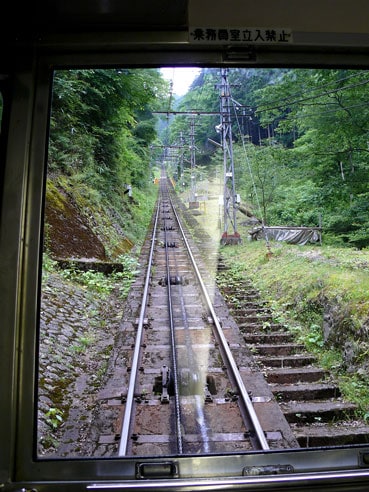 Once on the cable car, this is the view up the mountain to the town of Koya-san.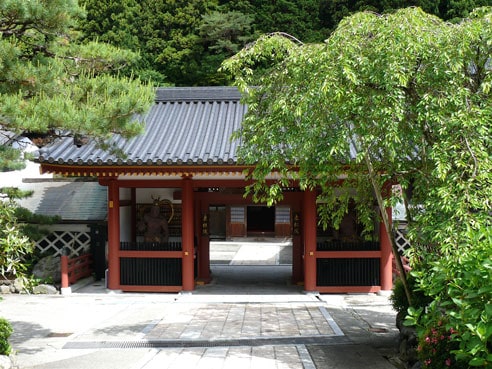 This is the outside of the monastery with 2 guardians standing watch. Koya-san is home to 118 monasteries that follow the Shingon form of buddhism. 53 of them are open to the public and run as inns where you can stay. Kobo Daishi founded this area as a monastic retreat in 816 and it is the temple with his remains that marks the end of the long cemetery walk. More on that next time.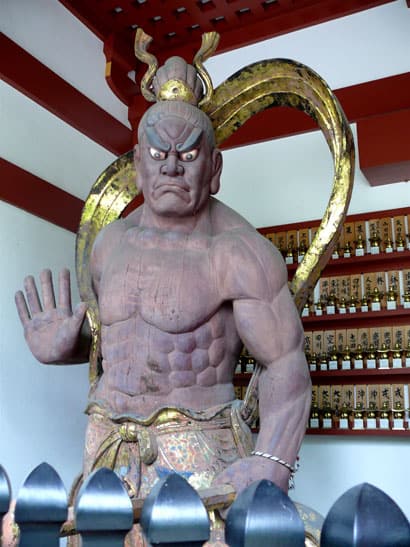 These are the fierce guardians that keep the evil spirits away from the entrance. Fierce and beautiful. I'd like them as my personal protectors.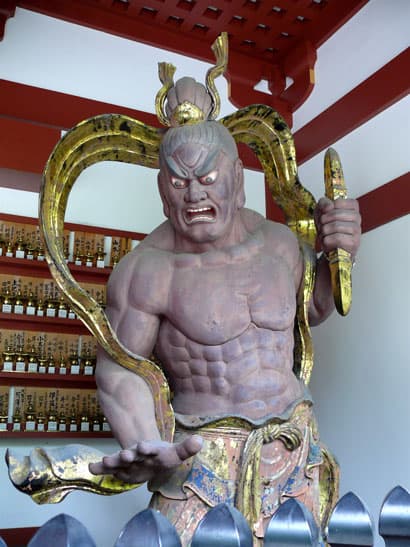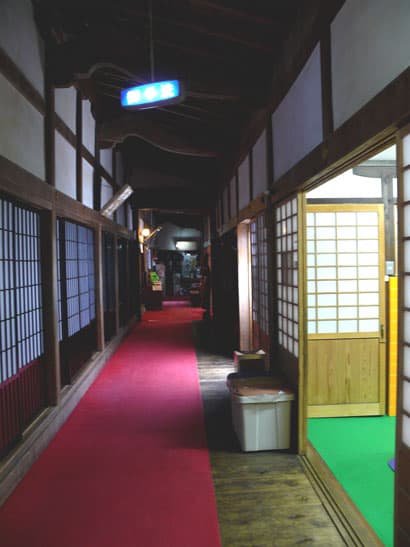 Once inside, after removing your shoes in an entrance room, you step into a long hallway. The shoji screens open on to a variety of rooms used for meals, meditations and retreat groups. The wooden floors were very creaky. We learned it's on purpose – no sneaking around. The monks always know when someone is coming or going.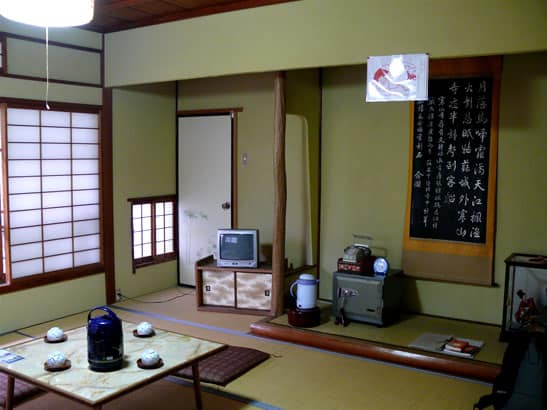 This was our very comfortable living room. I was completely surprised to see a TV. It got about 6 japanese stations and was blessedly never on. We did live on the floor for 2 1/2 days which was interesting and slightly hard on our backs and hips by the time we left.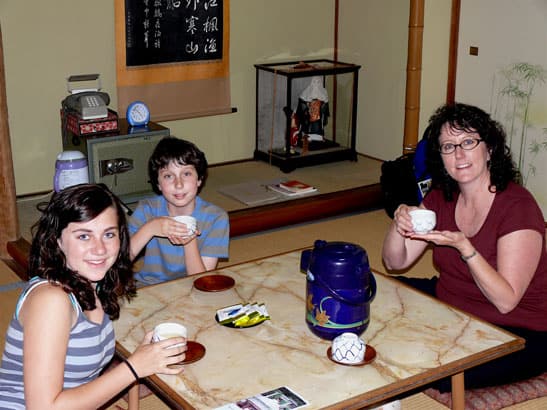 We had tea set out for us upon our arrival and it was refilled during the day.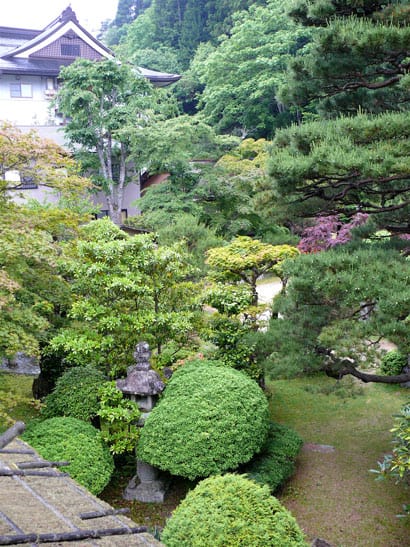 Our accommodations looked out to a lovely garden.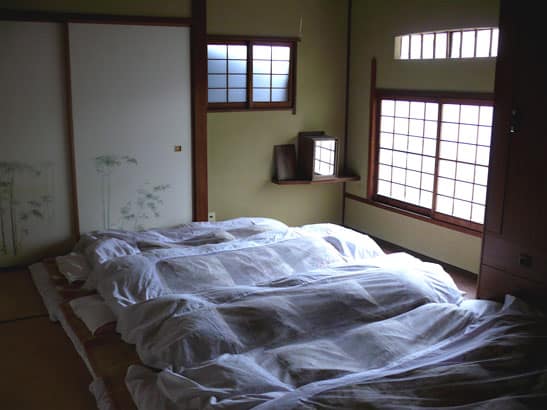 This was our sleeping room. Our futons were all laid out in a row with a blanket, topped with a down comforter and a rice hull pillow. Spartan by American standards. It was kind of like camping. We haven't all slept in the same room together since the kids were a lot littler. It was very comforting for me.
I do this thing every night when my head hits the pillow and every morning when I wake up. I do a mental inventory of where everyone is. It must be a hard-wired mom thing. It wasn't like I decided to do it, I just do it. I am most at peace when all my lovies are at home, safe in their beds. My husband travels a fair amount and my daughter's teenage schedule doesn't allow this sense of peacefulness as much as I'd like.
As I lay there sleeping curled up next to my loved ones I was deeply grateful for this special time. We all lead busy lives with separate schedules, distractions and agendas and as my kids get older, I let go more and more. Traveling gives us a chance to really be together with shared experiences. And times like these will be fewer and farther between and more and more precious. I felt such an overwhleming sense of safety, gratitude and love as if nothing could ever harm us. The memory is a touchstone for me now. A time when they were all encircled in my loving embrace, right next to me. It won't always be like that. Hurts and separation will come, but for these two nights all was right with the world and as I slipped the bounds of waking life, I was truly at peace.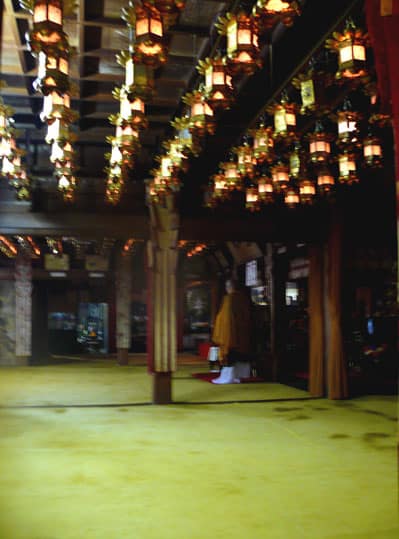 We arose early to attend the 7:00 a.m. meditation service. This isn't a very good photo of the incredible meditation hall/temple. It was both deep and wide with gorgeous golden lanterns hanging from the ceiling. We were invited in to sit at the back of the room, facing the main alter area. I was allowed a short time towards the end of the service to take photos and believe me I wanted to. But I also didn't want to be an intrusive jerk. So I snapped away quickly, as quietly as I could, and just hoped for the best. I was there for the experience, not a photo shoot. But the photo opportunities were amazing. It was such a sacred space filled with prayers, incense and golden beauty.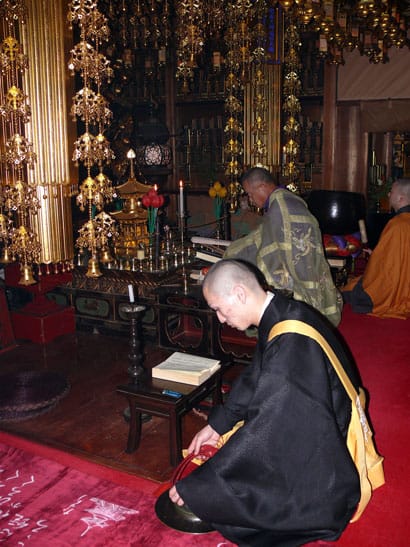 Four monks sat and chanted the service in deep and resonant voices. I closed my eyes and let myself be carried to another time and space.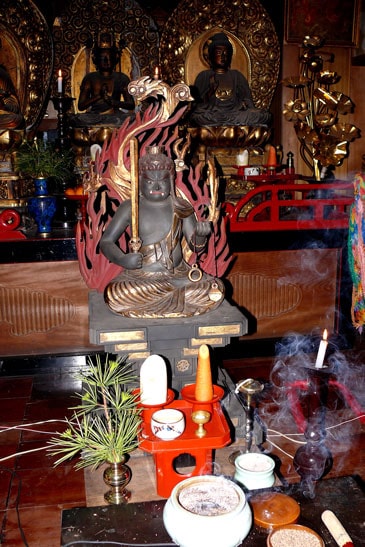 The monks sat at the main alter that featured a beautiful golden buddha, with smalled buddhas nearby. But then all the spaces surrounding the main alter were filled with smaller alters. Incense and offerings were laid out.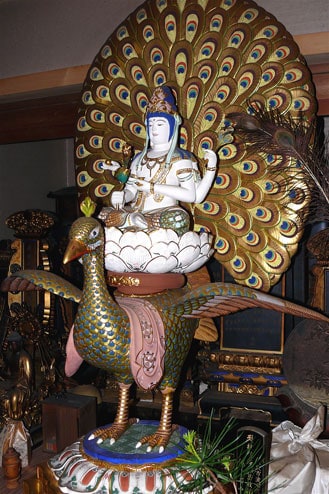 This figure sits on a white lotus and rides a golden peacock.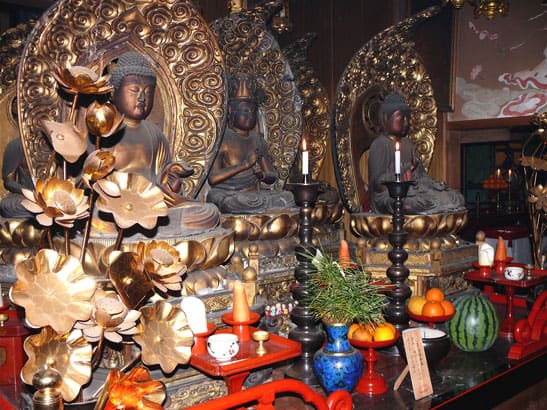 These beauties filled another space, lit by candles.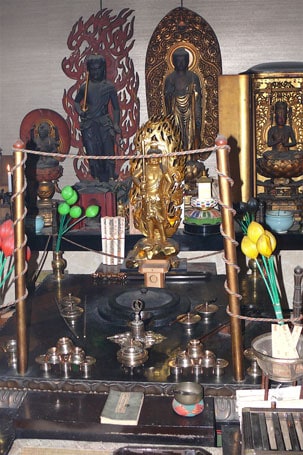 Guardians and buddhas.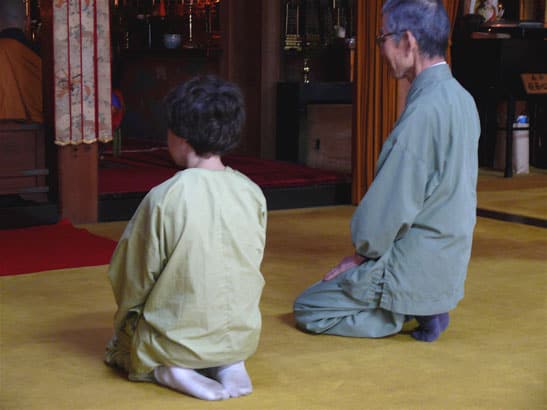 We were called up, one at a time, for a blessing. Parker, my little monk, sits with "Mike", our guide.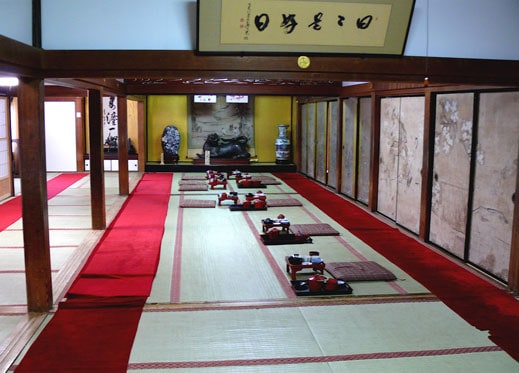 This was our breakfast room, one of the shoji screened rooms off the main hallway. Breakfast and dinner were both served this way, sitting on the floor with a cushion – our food laid out beautifully on laquered trays.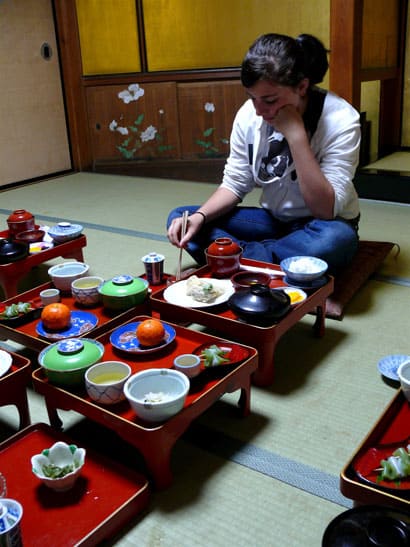 Dinner was three trays filled with amazing Shojin ryori – the vegetarian cuisine of the monks. Beautifully served, we had plenty of vegetables – fresh, cooked and pickled – as well as tofu dishes, green tea, rice and miso soup. It was as delicious as it was beautiful. In this photo, Whitney ponders her choices.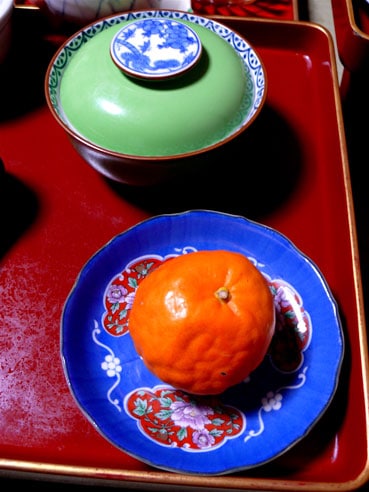 A perfect orange on perfect blue plate. Stunning. I could hardly bring myself to eat it.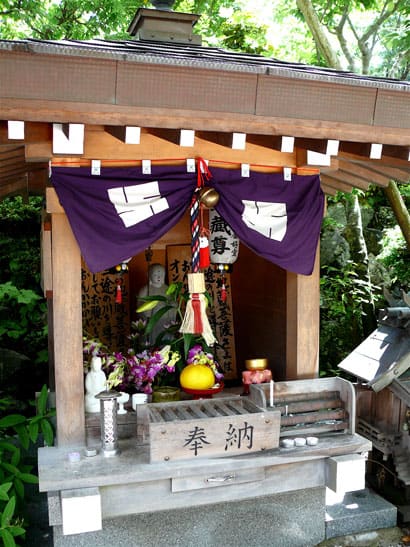 This is a little shinto/buddist alter set up just outside the entrance. Soooo beautiful in it's simple perfection.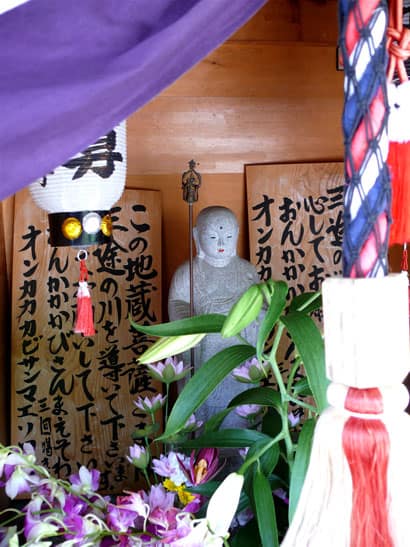 A little closer.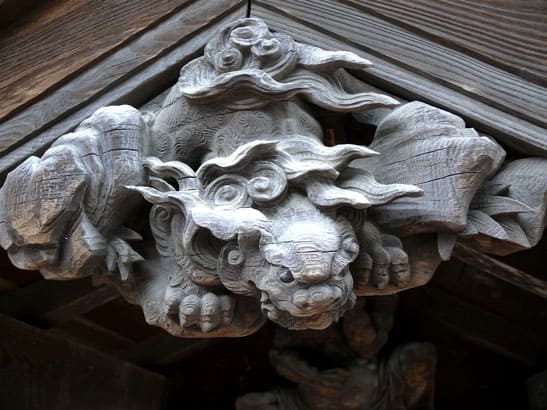 This wondrous beast was at the crest of the roof, guarding the entrance.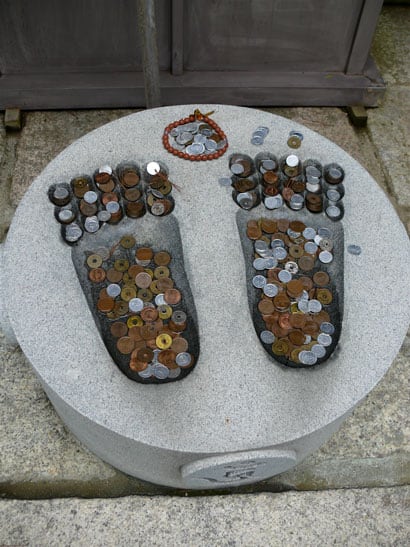 These buddha's feet were just off to the side of the entrance. Offerings and prayers left behind.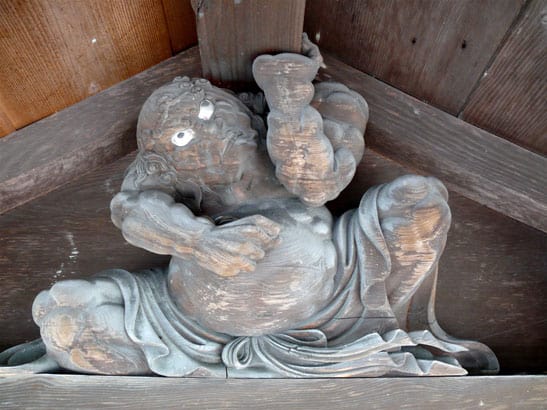 Here is another strongman holding the roof that houses the monks in their amazing world, chanting for peace and holding the light for all beings.
Up next – Koya-san Part Two.