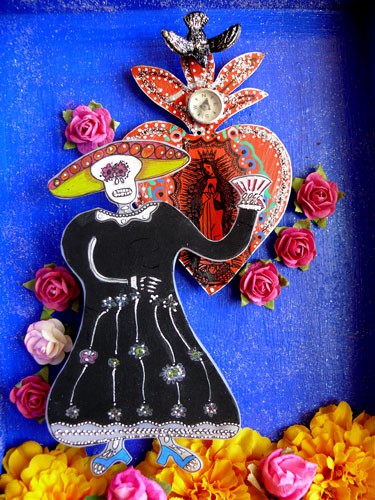 This last week was a big slow down for me as I was off carpooling duty. Whew! And it was wonderful to stay in my pajamas until noon and work in the studio a bit. For me, that's the beauty of winter…s.l.o.w.i.n.g. down. 
I finally, finally had time to work on my shrine for the Oaxaca Street Children Grassroots benefit auction. This worthy organization was founded in 1996 by Harold and Jodi Bauman, and helps send over 500 children to school every year. I was very touched and troubled to see so many child street vendors on my trip to Oaxaca two years ago. Many of us on that trip had packed an extra suitcase with used clothing for a family assistance shelter, but clearly the needs are greater than what a few of us could meet. This is a great way to support an organization that is making a direct impact on the lives of many children and adolescents that would be in the streets instead of school, and you receive a beautiful shrine as well.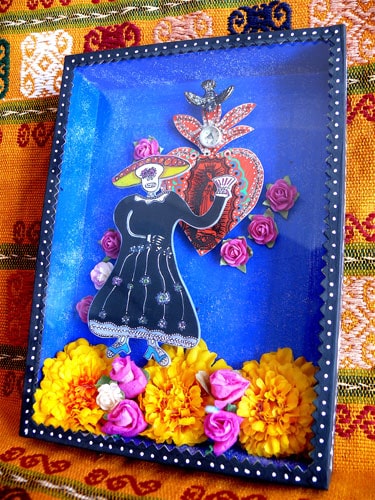 I had really wanted to get this done before Dia de Los Muertos, but alas I was sucked up into the vortex of the Black Belt. But it's now nestled between my other shrines and will be in the auction that will be held March 1 – 7, 2010. The idea is for participating artists to make a cigar box shrine and commit to putting it in the auction and then shipping it to the winning bidder at the end of the auction. To see last year's entries you can click over to the Shrine Gallery here. This year's entries will go up March 1st at Rebecca's blog, Recuerdo mi Corazon.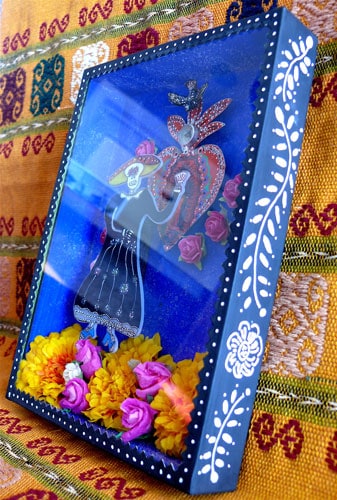 I  used an old stationery box that had a glass front. It's hard to photograph without a lot of glare, but it looks so much like the little Dia de Los Muertos boxes that I collect for Day of the Dead, that I am really happy with the way it turned out. 
I will post a reminder before the auction in March. In the meantime, you can go here to see a list of participating artists. And if you'd like to make a shrine for the auction, you can find all the directions you will need here.