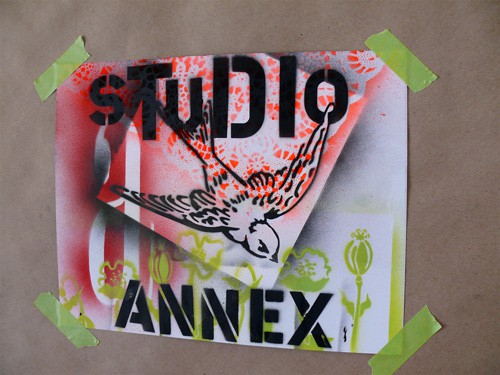 I've had a little time this week to work on finishing up my online Stencilry class with the fabulous Ms. Mary Ann Moss over at Dispatch From LA. And there is still plenty of time to get into the next Stencilry class which will start up June 26th. If you are thinking about this and haven't signed up…get thee to a keyboard, hop on over and JUST DO IT! Mary Ann has put together a kick-ass on-line class that just doesn't stop giving. It's really that great! I'm a slow poke, so she extended the time us first timers will have to finish up. Gracious as always, thanks Ms. Moss. She teaches second graders, she understands.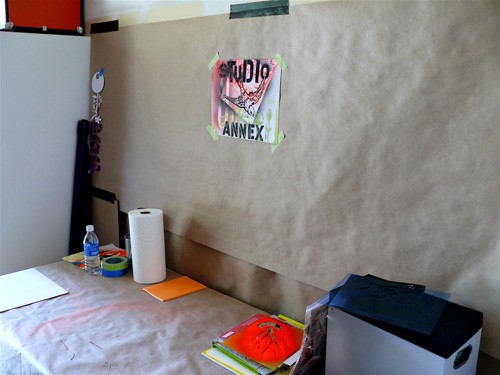 I've set up a little "annex" in my garage that doubles as my spray station. I just open the garage door, lay down some newspapers and spray away…
…which is exactly what I did this week…a new journal page with some stenciling.
And two new journal pages, "in process" – one with a stencil and one with a little watercolor shoe drawing.
In the spirit of stencilry, I thought I'd share some stencil/street art from Barcelona. This monster guy is a stencil, collage, drawing hybrid…kind of cool hiding in the doorway.
Not stenciled, but still very cool in a graphic kind of way. I'd like a whole wall of that.
Nice portrait stencil.
Mr. Hula Hoop jazzes up this wall nicely.
This one cracked me up – in case you can't read the dog/person's shirt it says, – "I love to dress my humans"!
And Amor is everywhere on the streets of Barcelona…wish I could walk down the stairs of my (imaginary) studio, in a centuries old building, for a cafe con leche and watch the action on my little street in the Latin Quarter. Instead I'll carpool my son to Tae Kwan Do. But a girl can dream…