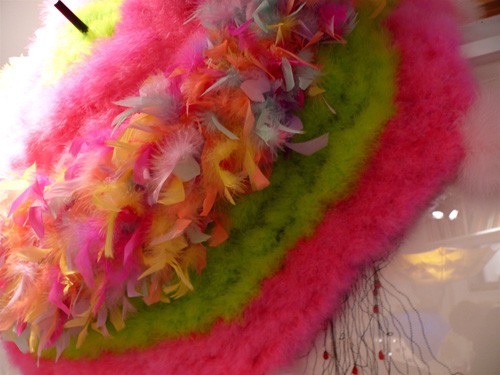 Inspiration. It's everywhere. Recently I had my blogversary (February 22nd) and this post will be my 120th. It's been over a year and I decided it was time to juice up my blog with a new banner and a couple of additions to my sidebars. In the left hand sidebar you can now find photos of my studio, journal pages, examples of my fiber and bead pieces and some of my other artwork. I've added my Amazon store (if you are wondering what some of my favorite books and music are) as well as a list of some of my favorite food blogs, "Foodie Blogs That Make Me Hungry." Just a little added bit of what inspires me and what may inspire you.
The lovely feather umbrella above came from the studio of artist Rebecca Didomenico. I had the wonderful opportunity to visit her studio and hear her speak last week at an event sponsored by the Boulder Museum of Contemporary Art (BMOCA). Rebecca is as lovely and charming as her work. She's quite an amazing installation artist – her work is big and involved and time consuming to make –  and breathtaking and inspiring to behold. 
She has been asked by BMOCA to do an installation for an upcoming show called, "Pure Pleasure". And as is true with many artist's, how she came up with the idea for her entry is as interesting and inspiring as the work itself. 
While in Borneo last year she happened upon a boat festival where the boats had been festooned with brightly colored umbrellas and ribbons. Rebecca said she was quite taken with the whole scene of the boats and their enthusiastic decorators floating on the water. The camera came out, photos were taken, inspiration takes hold. 
…the one's above are little faces on the to-be-covered-in-chocoloate brown umbrella, the the night sky punched and stitched to the blue one…
…and this one covered with butterfly wings that have been encased in very thin mica slices. So the umbrellas will become, while representing individual pleasures, something of a much bigger pleasure to behold. Funny, clever, touching, ethereal – an amazement. Brilliant. 32 of them. She has the grand vision – yes – but also the skill and discipline to make her ideas a reality. I can't wait to see this amazing installation when it's complete. 
I think it's something really great art does. Inspires us, makes us think and leaves us wanting more.