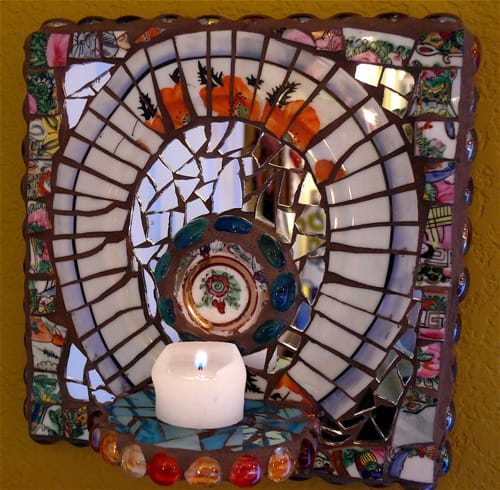 There's a theme running through my life right now – letting the light shine. And I had the pleasure of returning to student mode (really I'm always there) this week by taking a mosaic class with the lovely and talented 
Susan Wechsler
. She's an amazing mosaic maven with a very unique voice, and she opens her lofty and airy studio up to students who want to learn this very fun and beautiful art form. I was accompanied by one of my BFF's Lisa Hoffman – which made the day even funner (I swear funner if a word). Check out her beautiful mosaic class project 
here
. It's as lovely and striking as she is. Susan is a very generous and enthusiastic teacher. If you are anywhere near Longmont, Colorado I suggest taking that plate of Aunt Edwina's that you can't part with, (but have no idea what to use it for) and get thee to Susan's studio. 
And BTW – if you ARE in the area you'll want to have a bite to eat at Susan's husband's restaurant in Boulder, 
Bimbamboo
 - a modern asian kitchen, specializing in very fresh, and affordable, food with Thai, Malaysian, Korean and Vietnamese influences. YUM! Parker and I ate there recently  and I loved, and wolfed down, my Hot and Sour Shrimp Soup Bowl, brimming with tiger prawns, green tea soba noodles and tofu. Parker (10) had the Crispy Chicken Wings – Seoul Style and pronounced them, "the best ever". 
Art and food in one family. What could be better?