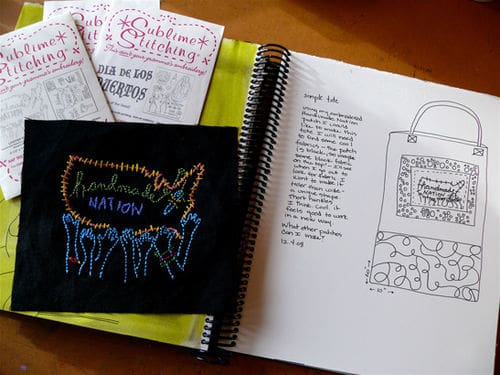 It must be the onset of winter. My hands, heart and mind have been craving the needle and thread. I have been collecting patterns from Sublime Stitching for a while now and the only thing they've been collecting is dust. I don't know why the bug bit me this week, but I finally got out my patterns, threaded the eye of the needle with some brilliant cerulean thread and began to stitch. "Not your gramma's embroidery," as Sublime Stitching's founder and diva Jenny Hart likes to say. She's an amazing new wave embroidery artist. She's got a website, a blog and a very cool on-line shop where you can buy an amazing number of hip patterns and supplies. 
It's easy and remarkably calming. I stitched up the design from Handmade Nation and decided to make it into a patch that I'm going to put on a tote bag. I made a little drawing in my journal, lest I forget my where I was going with this.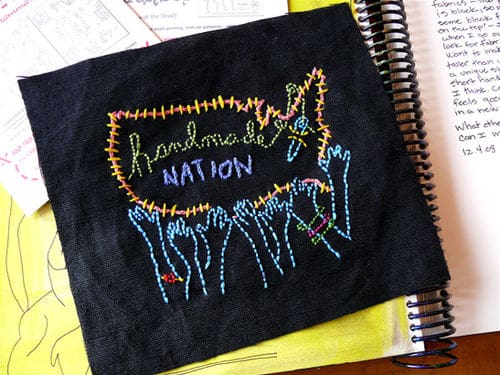 The directions are simple and you only need a pattern, your fabric, a simple embroidery hoop to keep your fabric taught while you stitch, some embroidery thread and a needle. Simple. I like just looking at the bins of embroidery thread at the fabric store…the colors….yeow! And with Jenny's mod patterns, you can have a little project finished in no time. And it's not too late to have a handmade holiday!
I think THIS (a view out my studio window) had a lot to do with my return to needle work and cups of tea. We got our first real snowfall of the season yesterday. It was lovely in that first-snow-of-the-season kind of way. I won't be singing the lovely song in March, trust me, but for a December afternoon with everyone safely tucked away at school and the office, it was lovely.
I think she's like the Martha Stewart of Japan. They have gone Lotta crazy. This book I got from her website – no free shipping on Amazon, sorry – but it was worth it. She's a walking billboard for her own design aesthetic. Clean and simple with a sophisticated whimsy. This little book is like being the kind of voyeur we are when we go to another artist's studio and just gape in amazement at all their creativity and goodness. The chapter headings and introductions are in English, but you are on your own for figuring out the other captions. But it's mostly pictures, so it doesn't matter. A great escape book. 
Back to the December madness today. Carpool. Check. Getting the tree. Check. Finding the menorah. Check. We celebrate Chrismukkah here. Check. Cookies for the holdiay program. Check. Last minute shopping. Check. Family drama. Check.  Yup, it's December. Now where's my needle and thread?