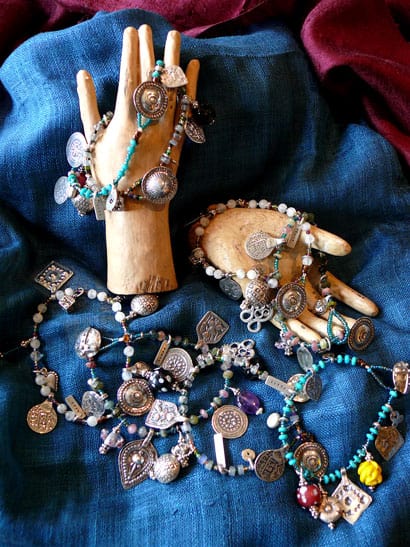 Let's start out December with something handmade. The best kind of gift. And seeing how today is Cyber Monday (really?), I thought I'd let you all know that I have a few lovely charm bracelets left from my Open Studio's sale. 
I collect rare and special silver charms throughout the year and gather them here with gem stones to create a really unique charm bracelet. Each is secured by a silver button clasp and unusual and vintage beads. The bracelets are $60 and that includes shipping and handling. They come tucked inside an organza bag and stashed inside a one-of-a-kind muslin "merch bag" – see below. Such a deal! If you are interested email me at fm2@att.net and I'll get one (or two or three) off to you right away.
I have several travel journal kits left from the show as well. They are a great deal at $75.00 – the kit comes with:
– 25 page spiral bound journal made with 140 lb. fabriano hot press water color paper
– "Making a Travel Journal" – an original "how to" booklet penned by me – all my best tips for creating unique and personal travel journals
– A journaling supply bag filled with: scissors, paper cutter, small water color set, japanese water brush, super absorbent napkin for cleaning just mentioned brush, mechanical pencil, 2 Gelly Roll pens, waterproof india ink pen, a regular writing pen and a glue stick. Whew! That's a lot of journaling supplies!
This kit is the same kit I use when I travel. I've just duplicated it and taken all the work out of creating your own. For anyone who travels or loves to journal, this is a great gift. The whole kit is wrapped and tied with linen twine and a special scissors charm and tucked into a merch bag. Cool, huh? Email me if you are interested.
By next year I'll have my Etsy shop up and running, but for now you can just email me if you are interested. 
These stenciled "merch" bags were a gas to make and can be reused! 
Happy Monday! Take care of yourself in this crazy month. Breathe. Take time for a cup of tea. And when in doubt, buy handmade!