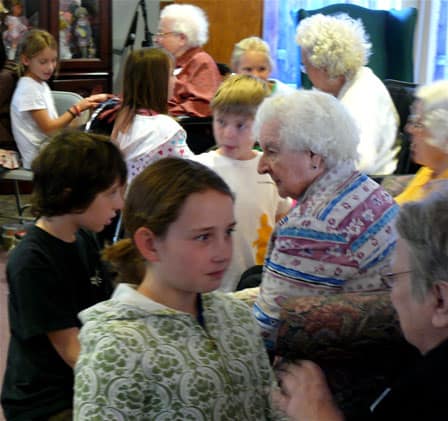 My son's 5th grade class volunteers about once a month at an assisted living center near his school. Their mission: to listen. They spend about 45 minutes taking turns listening to elders in this community share some of their life experiences. It's a guided exercise broken down into short segments so they get to talk to several elders in one visit. There is a format. They are to look at their "grandpartner" and if they feel comfortable, hold their hand while they listen. To see these 10 year olds, on the cusp of their "whatever" teenage years, engage with elders like this, is so poignant and touching it just breaks my heart wide open. I hope when I get old some young person will gently take my hand and just….listen. 
In the spirit of listening, which is a skill that is sorely lacking in today's "tell all" culture, NPR has launched a very cool program this week called,  The National Day of Listening. Officially it's the day after Thanksgiving, but they are encouraging people to learn about and train themselves to be listeners. The idea has sprung of out of the StoryCorps project which is one of my favorite things about Friday mornings on NPR. Their tag line is, "Listening is an Act of Love" and their mission is to "honor and celebrate one another's lives through listening." StoryCorps has a traveling soundbooth/airstream trailer that travels the country and sets up so people can record their stories. Thousands of people's stories are archived at the StoryCorps website – give a listen you'll be inspired by the journeys people just like you and me have taken.
The National Day of Listening encourages all of us to listen and record our own stories. This short video clip shows you how. No fancy equipment or StoryCorps booth needed. Just set aside one hour the day after Thanksgiving and record a conversation with someone who is close to you.
All we need to do is really just listen. Open up to someone else's story.
By listening closely to one another, we can help illuminate the true character of this nation reminding us all just how precious each day can be and how truly great it is to be alive.
-Dave Isay, Founder, StoryCorps
*In a funny turn of events Lisa and I have blogged about the same thing. 12 hours apart. Without knowing what the other one was doing. It was bound to happen. Two good friends. Both bloggers. Both BIG NPR and story telling fans. But in all fairness, Lisa spins a much better yarn than I do. And to that end check out our synchronicity 
here
and her wonderful story telling blog, Gypsy Bonfire, 
here
. She's got some great stories to share.