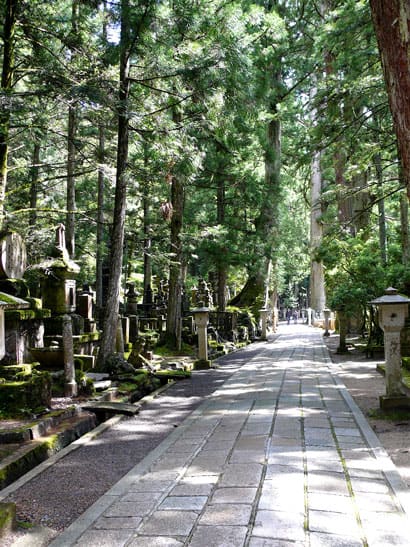 This is the beginning of the walk to Okuno-in, the tomb of Kobo Daishi. The path meanders through this amazing forest, amidst 200,000 tombs of the remains of Japans most powerfuland illustrious families.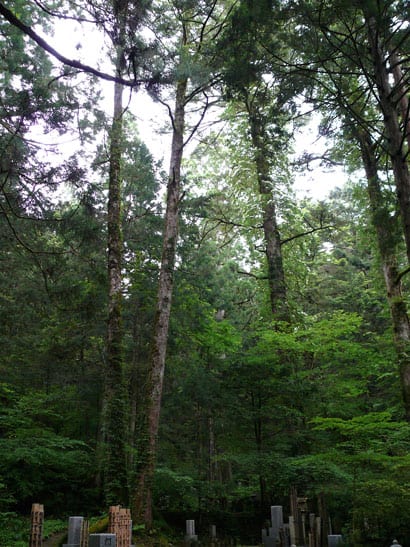 It's really hard to describe how magnificent these trees are. Tall and stately, they are sacred themselves and lend an air of ancientness to this special cemetery. The walk is about a mile and a half.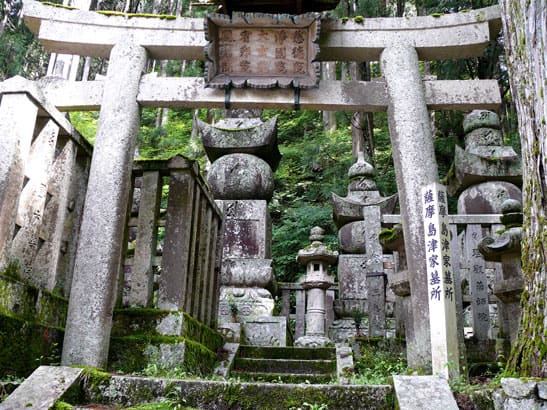 Several grave markers and a family plot.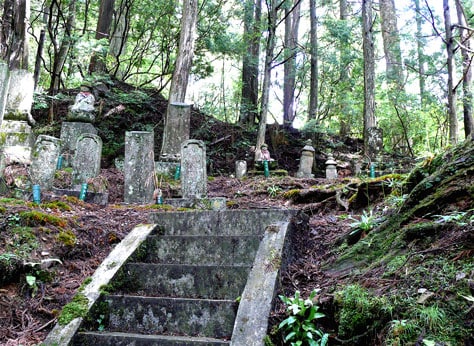 Stairs leading up to a little buddha standing watch.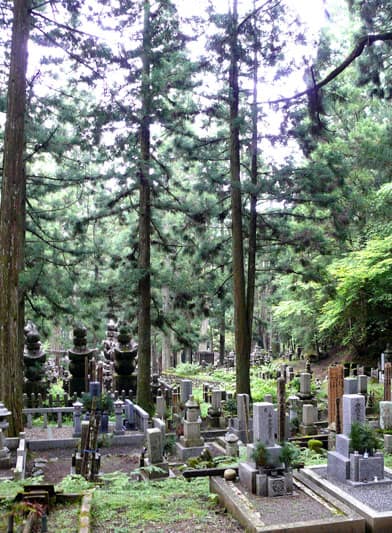 Another view of the cemetery. I've tried to give a couple of views with the trees to give you a sense of how big the cemetery really is.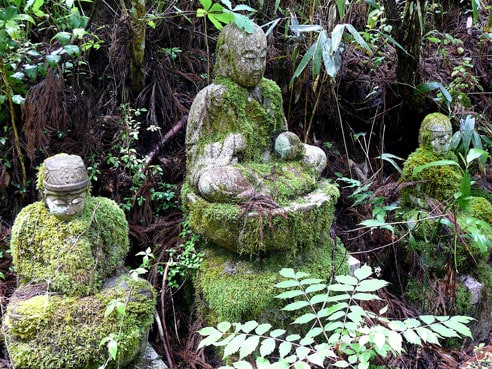 Three moss covered buddhist figures. The Shingon sect of buddhism places special emphasis on the Thirteen Buddhas, some of which are bohdisatvas or "wisdom beings."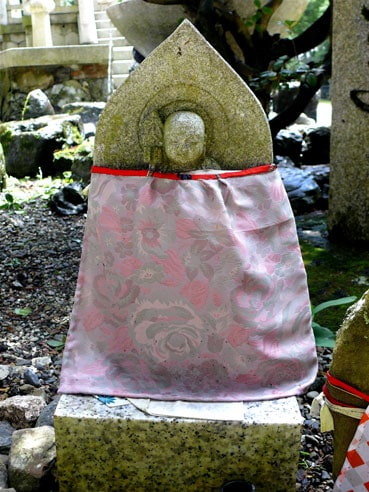 A little buddha with a "bib". These "bibs" are very prevalent here. Many of the buddhas wear them and have been put there by people praying for the safety for their children, to honor children that have died or by people wanting to have children. A bib is used to protect a child in this life and so is a very literal symbol of child protection.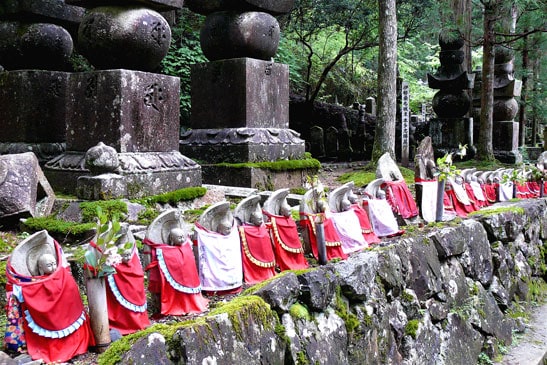 Here is a whole row of little bibbed buddhas.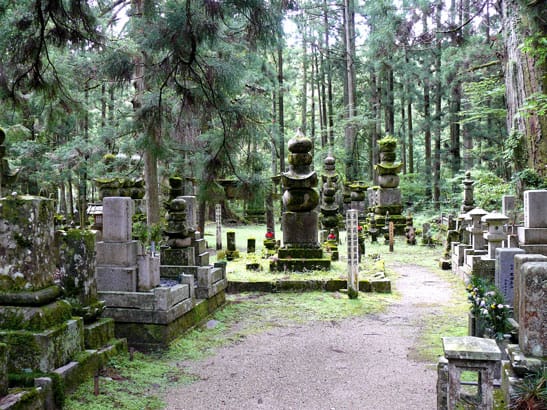 More of the cemetery and standing stones, with little buddhas dotting the scene.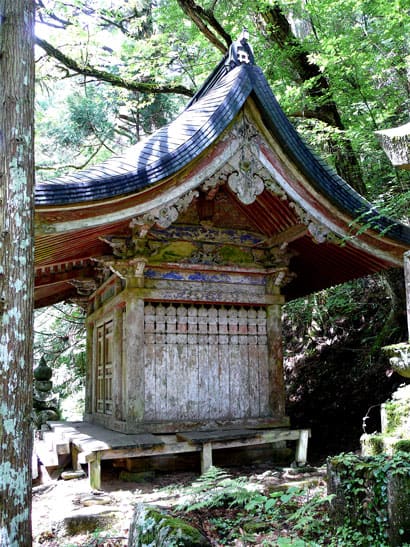 Some families have (or had) mausoleums constructed to commorate their family members. I love the faded wood and colors on this one as well the magnificent lines and detail.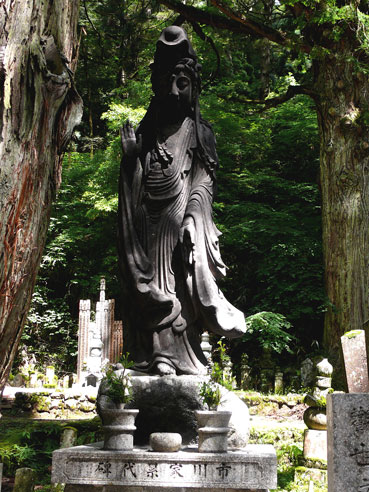 A graceful female bodhisattva.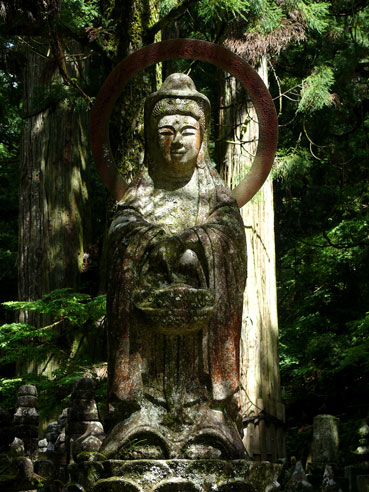 Another female bodhisattva in the shadowy sunlight. Lovely.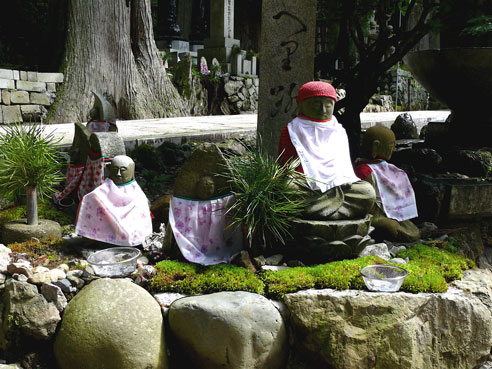 Another grouping of little buddhas along the path with an offering basket set out. I think the hat is another symbol for protection.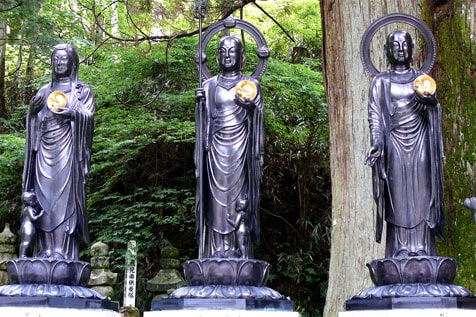 These beautiful bohdisattvas standing with children, offering compassion and protection. The golden orb is a fetus. I love them and their expression of the divine feminine.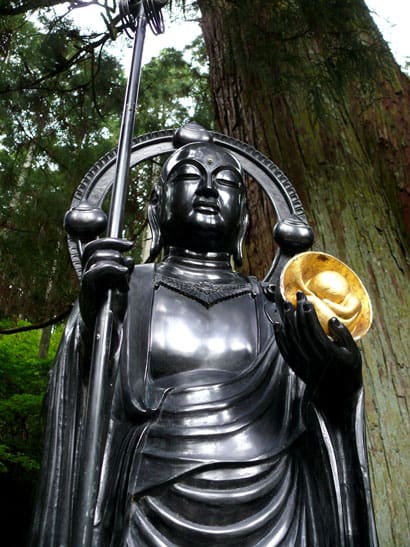 A close up view of the middle figure. So beautiful.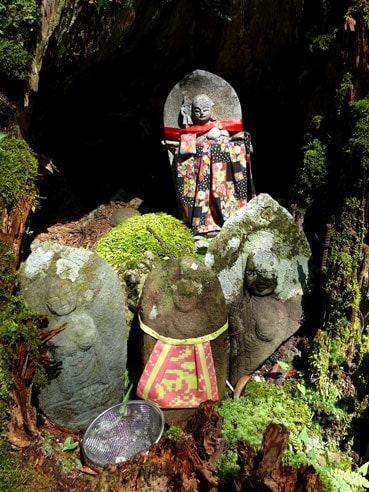 More buddhas. I can't help including them. There were sooo many and all interesting and beautiful.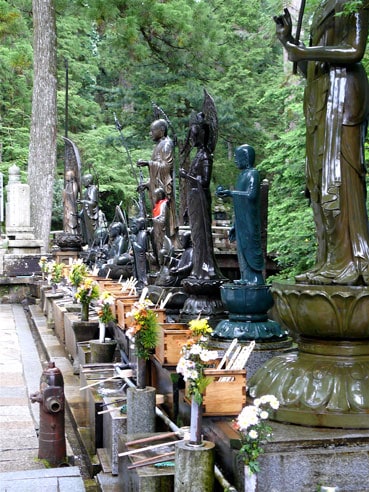 This row of buddhist figures were just outside the marked sacred bounds(no photos) of the Okuno-in. Each one had a water feature at it's base with flowing water and dipper. A prayer is said and water is poured on the figure for a blessing.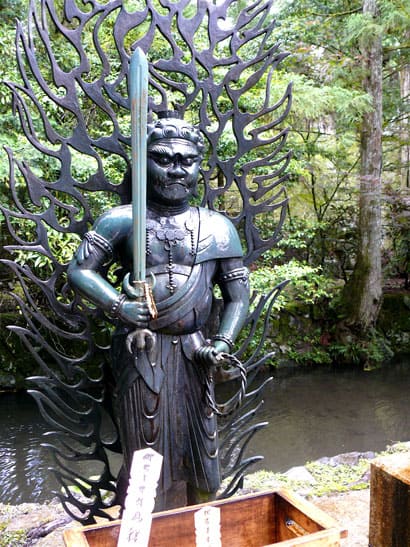 This is the bodhisattva Acala, I call him the water warrior. I love his regal fierceness. He is the destroyer of delusion and the protector or Buddhism.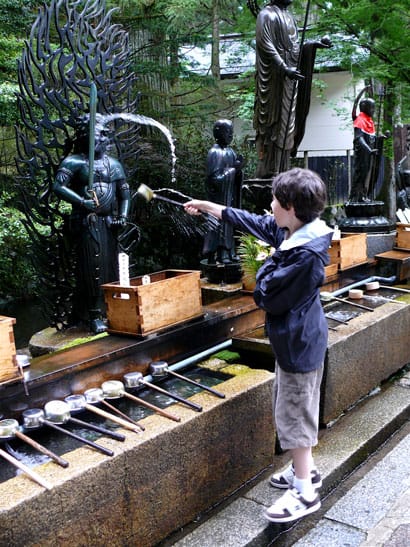 Parker making his watery offering by throw rather than pour.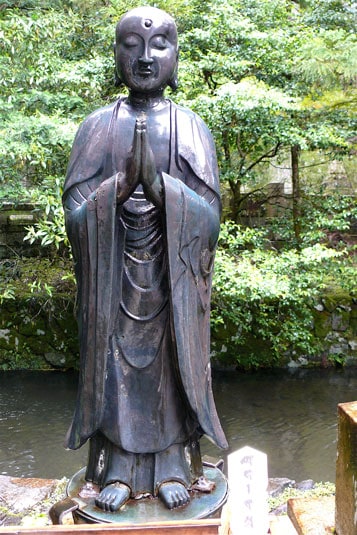 Praying water bodhisattva.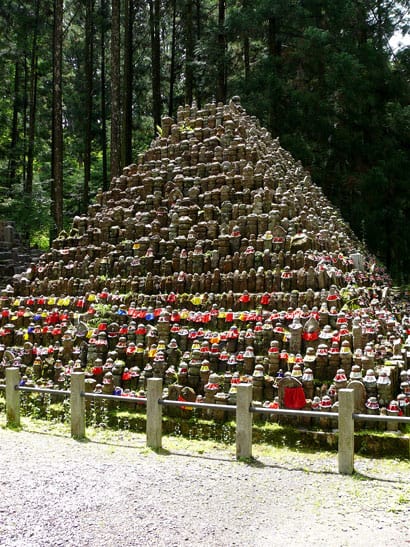 The monks from Koya-san maintain the cemetery and as the most ancient graves are abandonded and begin to desinigrate, the buddhas are moved and these little "mountains" are created. I saw a couple of these buddha "mountains" as we walked. They are 4 sided. That's a lot of buddhas.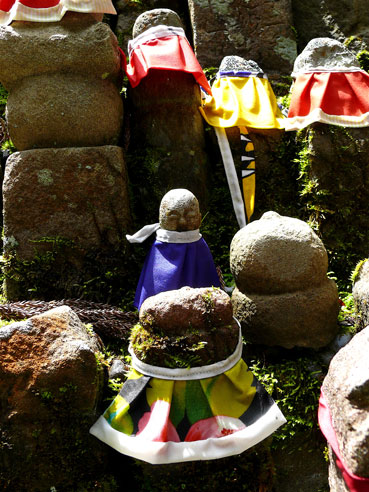 This little blue bibbed buddha caught my eye.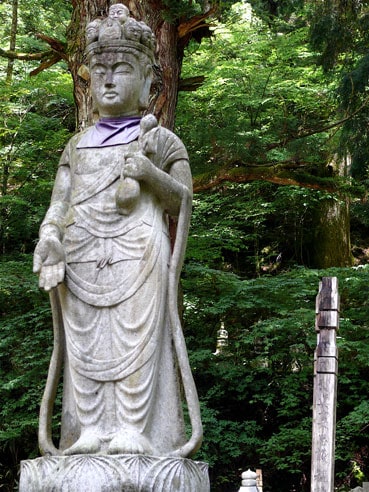 A womanly bodhisattva.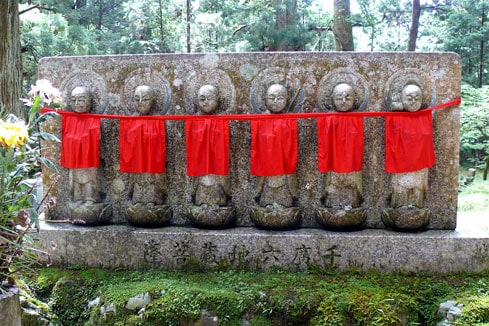 This row is spectacular with one continuous bib.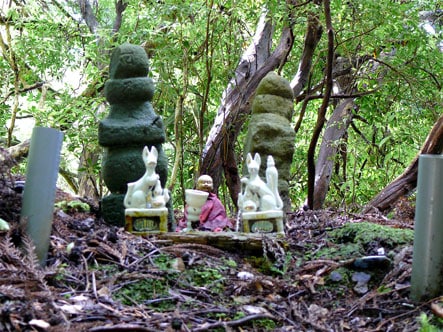 Looking up into the woods I caught a little buddha with 2 Inari or white foxes which are considered messengers.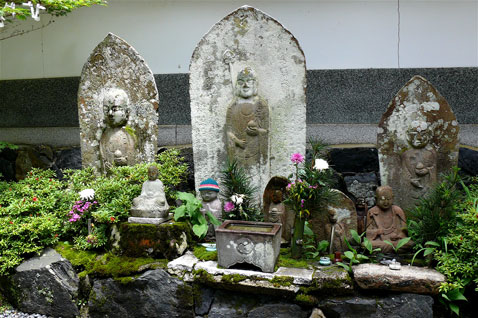 This lovely grouping was nestled up next to a building in the cool garden.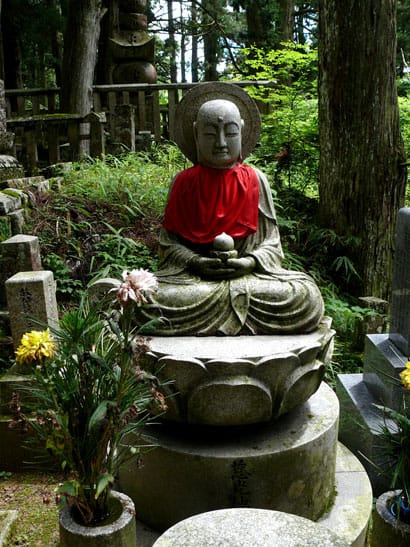 I love the grounded peacefullness of this figure.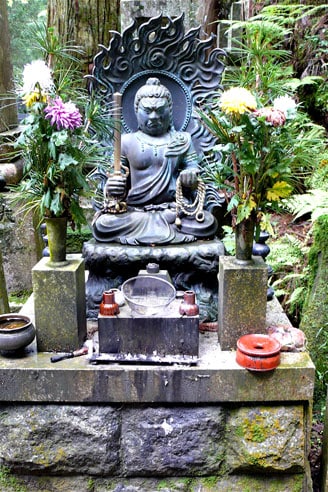 Another Acala bodhisattva.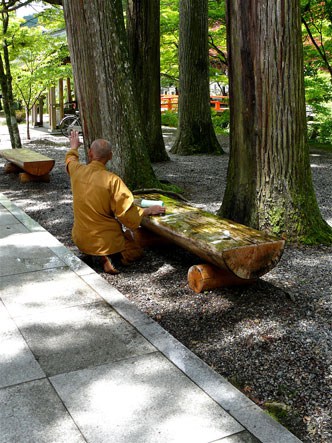 As I mentioned before, the monks of Koya-san maintain the cemetery. Here a monk is cleaning one of the log benches. With a toothbrush. Mindfulness training.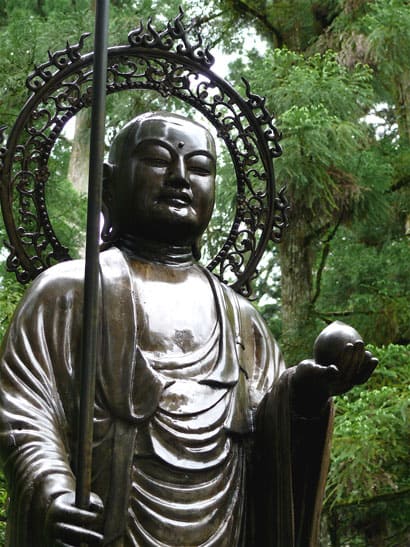 This is one of my favorite photos from the cemetery. And check out how much he looks like the monk from our monastery.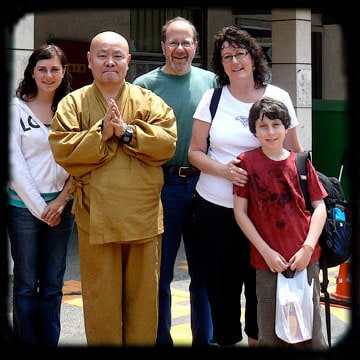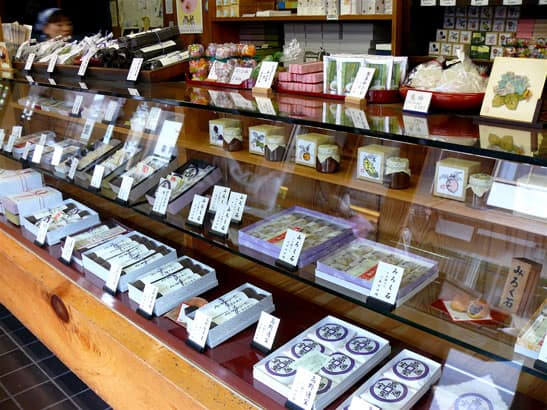 There was little shop in town that had the MOST beautiful sweets. The packaging was a beautiful as the food.
More Tales from Japan later in the summer.