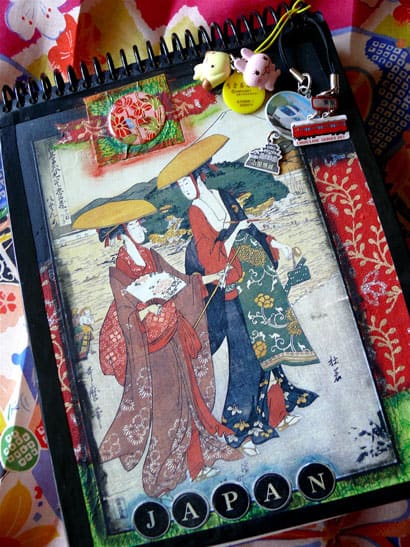 I am having a hard time wrapping my brain around sharing our trip to Japan in a blog format. We travelled for 2 weeks, went to 5 different locations and I took 865 pictures – edited. So I've decided to share some pages from my travel journal and then go a little deeper into each location, highlighting some special experiences. So for now, enjoy these pages and I'll be working on some other stories.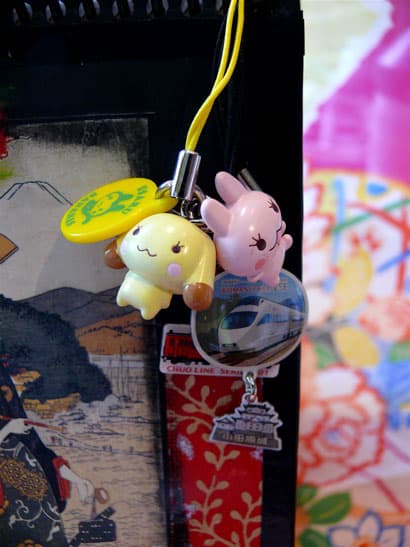 Everywhere we went there were these bubble-gum like machines that had charms in them. They were like the machines in the grocery store, where you put a quarter in the slot and out comes a gum ball, or little toy. The Japanese are crazy for cute. It's the land of cute. And the land of cell phones. And everyone (including businessmen) have charms like these tethered to their phones. Not only are these ball machines available practically everywhere, lots of shops sell charms as well. There are Manga (Japanese anime cartoons) one's, Disney ones, location ones, train ones, seasonal ones – you name the theme and there is a charm for it. Of course, my 10 year old son went insanely obsessive for these. Most of them cost about 100 yen (about a $1), in a convenient quarter-sized coin. So Parker was the collector of everyone's 100 yen coins and he hit as many machines as he could. He kindly parted with these 3 for my journal. More on this whole cute thing later. As well as Parker's heaven.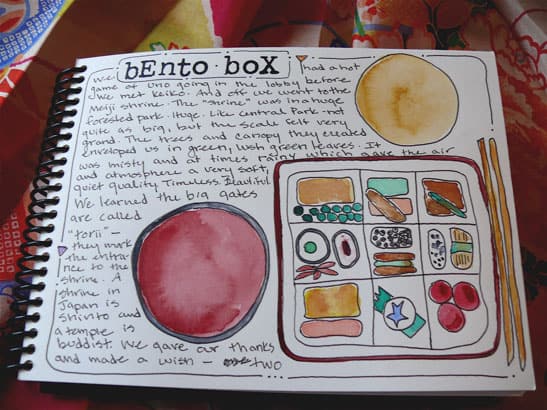 Our plane ride was long, but we enjoyed the very gracious service of Singapore airlines and made it to Tokyo from LA in just under 11 hours. We tried all the Japanese food on the way over, including a lovely bento box breakfast which I did a little watercolor of. On the way home, it was western food the whole way. It's not that we didn't like the food in Japan, because we definitely did, it's just we wanted something that was completely recognizable. And I have to say, for airplane food it was really good and recognizable.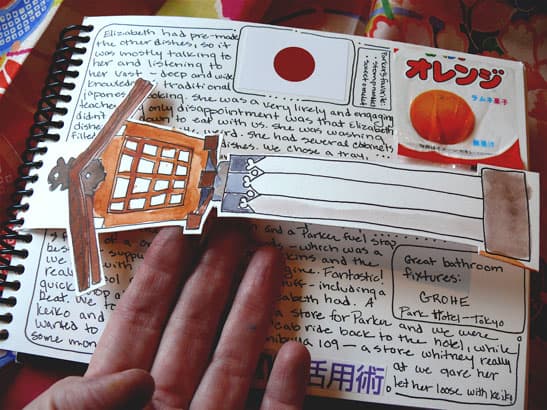 Our first morning out in Tokyo our lovely guide Keiko took us to the Meiji Shrine. Planted in the heart of the city, this Shinto shrine was completed in 1920 and honors Emperor Meiji and Empress Shoken under whose rule Japan ended it's long isolation from the outside world. It's like a huge Park, planted with thousands of trees. We had a Shinto blessing ceremony here and walked the beautiful grounds. This is a little watercolor of one of the lantern/posts that dotted the pathway through the Shrine/park. It's a journal page cut-out that floats above the other page.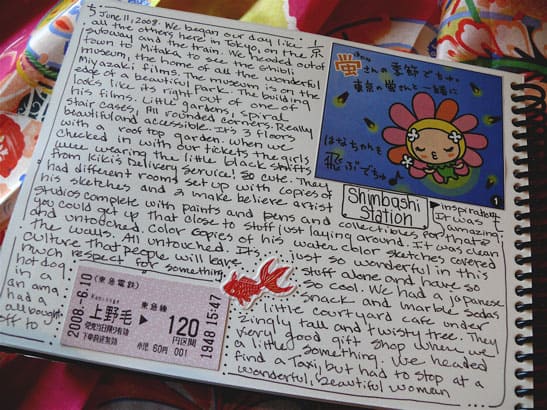 Shimashi was our subway stop. All trains eventually took us back to Shimbashi station and a short walk to our hotel. The little ticket is a subway ticket. Tokyo has an incredibly efficient and clean subway system. And no we did not go at rush hour and so avoided the "pushing" that is so famous. We had some crowded subway rides, but found people to be very polite, quiet, considerate and non-pushy. No one eats on the subway or walking down the street. Since the sarin gas attacks in 1995, they have taken trash cans out of the subway stations and mostly off the street. What trash you generate, you have to carry a long way to throw away. And, no one talks on their cell phones in public. It was a blessed relief.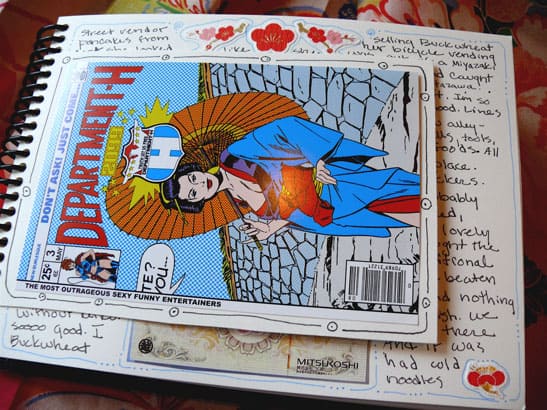 My son loves Japanese anime (a style of japanese cartoons) and we found a very cool comics store that had plenty to satisfy him. At least visually. 98% were in Japanese, of course, but he loved the authenticity and the visuals. I picked up this cool postcard for free, outside the store. It's so wonderfully kitsch and the bonus is, it's in english.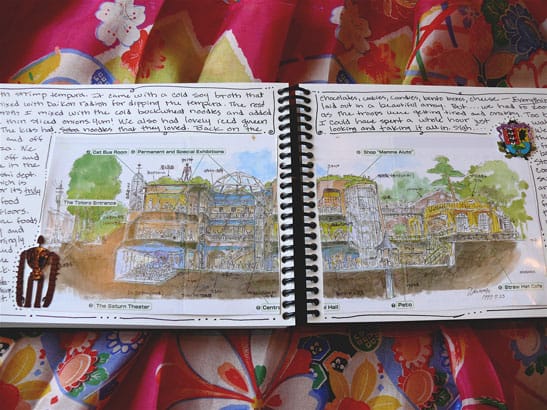 On our quest for all things Japanese anime, we made a pilmgrimage to the Ghibli Museum, dedicated to the films of Hayao Miyazaki. We love the movies from this very creative and original studio. They include: Kiki's Delivery Service, Howl's Moving Castle, My Neighbor Totoro, Castle in the Sky and Spirited Away (which won an Oscar for Best Animated Feature Film). There are more films and Netflix has very good selection. The museum was just like his movies, and with a timed ticket, it wasn't too crowded. The rooms are set up to look like artists studios, with copies of his drawings and sketches, models, things hanging from the ceilings, paints and pens in containers, books and toys. There are a couple of film areas and you get to see a short film, not available anywhere else. The giant robot from Castle in the Sky is recreated as a very large roof top garden sculpture, where everyone waits politely (and quietly) in line to have their picture taken with it. The tickets have 3 little film frames sealed in cardboard that you get to keep. It was charming and very well done. Clean, clean, clean. No roped off areas and nothing behind glass. They had a lovely gift shop, with cool stuff, but not over done. It was a dream come true for Parker. You can read more about the museum here.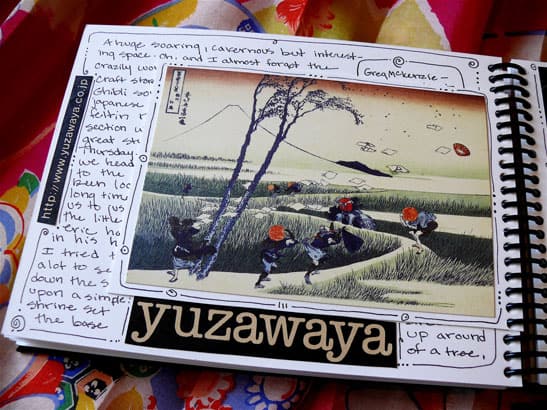 I read about this great store called, Yuzawaya – an 8 floor craft store. I just had to check it out and it did not disappoint. I had the fam in tow, but they were actually very patient and were as amazed as I was. I could have stayed there for about 4 hours, but did my scoping much more quickly and found some amazing Japanese art paper. And some other things in my Tokyo stash, that I will uncover soon. It seems the Japanese are very into hand-made crafts, because this store had it all. Very high quality and not terribly expensive. An art supply heaven.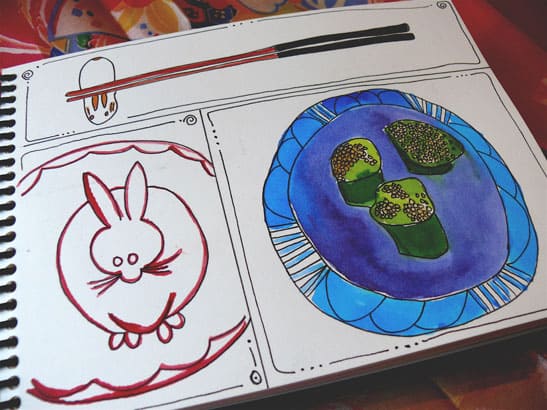 Our second day in Tokyo was devoted to a wonderful cooking class with cook book author, Elizabeth Andoh. She is working on a new book, but I have her book Washoku, which is so beautifully done you just want to eat everything pictured. This journal page is a little water color I did of one of her plates and a spinach bundle side-dish we made. I will do a separate blog entry for the class. It was such fun to cook with her and I have lots of pictures of her cooking studio and making "stomp noodles."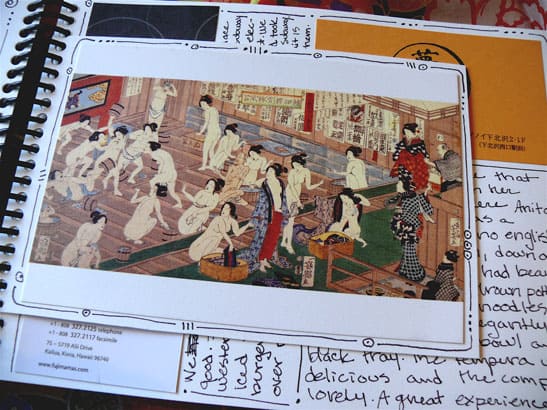 On two occasions I had the opportunity to do an "onsen" bath, a traditional japanese bathing experience. Fortunately, my baths were smaller with only a few people, not the bathing party you see in this postcard. It's very prescriptive (like a lot of things in Japan), there is a right way and a wrong way. I stumbled my way through, pissing off only one cranky old lady. While being completely naked. Ah, the adventure of travel. While we were in Hakone, which is a Japanese resort area fed by natural hot springs, I bathed in our hotel's onsen. You walk in and take off your street shoes and they go in a shoe bin by the door. You then put on slippers to go into the dressing area. Once there you disrobe, neatly fold your clothes and put them in a basket. You take one of the large white towels to cover up your basket – do street clothes offend? Not sure, but all baskets were covered so I followed suit. Then, stark naked you grab a very small towel to (try) to cover your privates and pull open the sliding door to the bathing area. Once inside you will see a large "L" shaped tub with about 2 1/2 feet of very clear, hot water. The walls of this area are surrounded by low hand held shower wands with little stools and buckets at each faucet. There were about 8 in this room. You sit on the stool (stark naked) with other women nearby. Once seated you try to figure out how the shower thingy works and spray yourself in the face. Lather up, and I mean really lather, and DO NOT miss one square inch of your whole body. Rinse off. Wash the entire area in which ANY part of your body touched. And now you are ready to enter the hot bath. Once there, it feels marvelous. Since there is no where to put your privacy towel, you put it on your head. I wrapped my hair in mine, like I do after my shower. I'm sure I offended someone. After about 15 minutes I kind of reversed the whole procedure minus the sitting shower. I have to say it was an interesting experience. You really can't be modest or offended by naked middle aged women's bodies. It was a great relief to be surrounded by other women bathing in such an open and natural way. And I slept very well that night.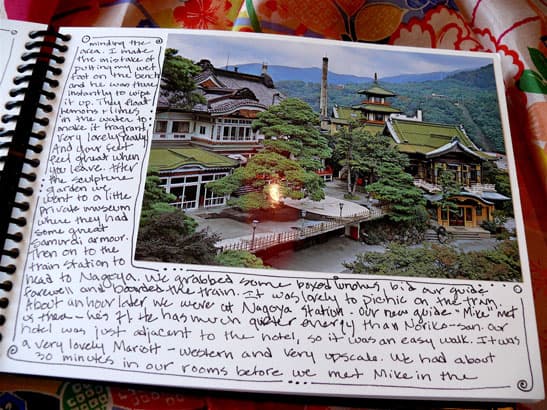 In Hakone we stayed at the Fujiya Hotel, a very old and authentic resort hotel. It is pre-war and had the feeling of old Japan. They've updated and kept it restored, but it has a very 1920's, old world feel to it. Lovely with a creepy edge. Parker and I (we are both a little psychic) sensed the creepy factor. But we saw no ghosts and enjoyed our visit back in time.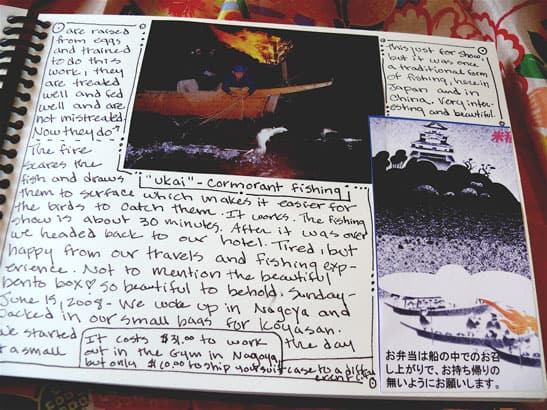 Onward to Nagoya where we had a lovely bento box dinner on a long wooded boat, sailing up and down part of the river. After dinner we saw an evening cormorant fishing show. It's for tourists (we were the only caucasians) now, but at one time it was a traditional way to fish in some areas. The cormorants are raised from babies to "fish" by their handlers. A loose rope is tied around their necks and tightened only so they can't actually swallow the fish. After 5 or 6 fish have disappeared down this bird's gullet, the handlers pull them up ship board and they are gently squeezed back out. It's not as gruesome as it sounds and the birds seemed fine and looked and acted as willing participants. They fish at night with a big basket of wood that is lit on fire to light the way and scare up the fish. Is there a Japanese PETA? We are so over legislated here stateside, we could never have this kind of show here. It was pretty cool.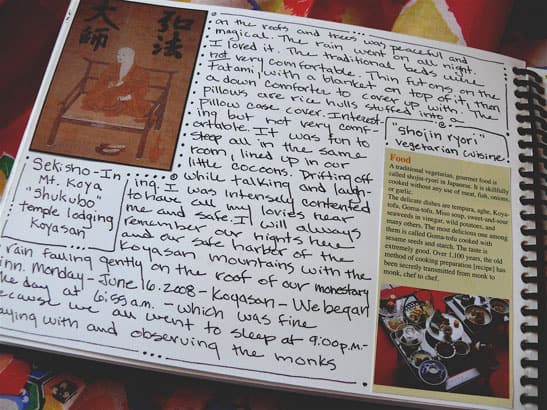 This photo and the next two are from Koyasan, which will have it's own blog post. It is such a special place and I have lots of cool photos and stories to share. Soon.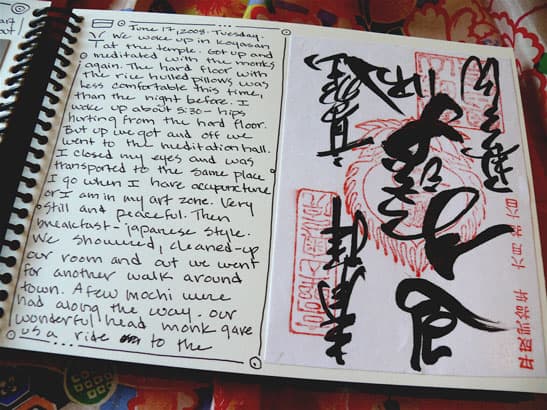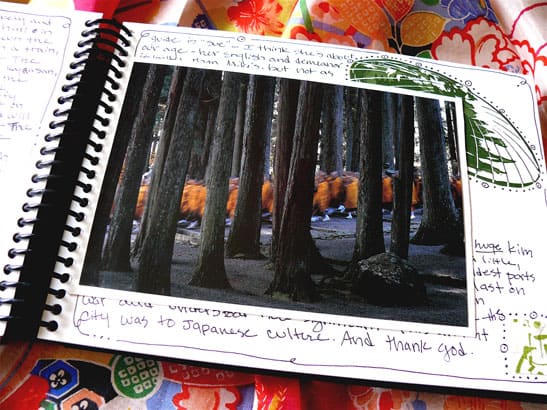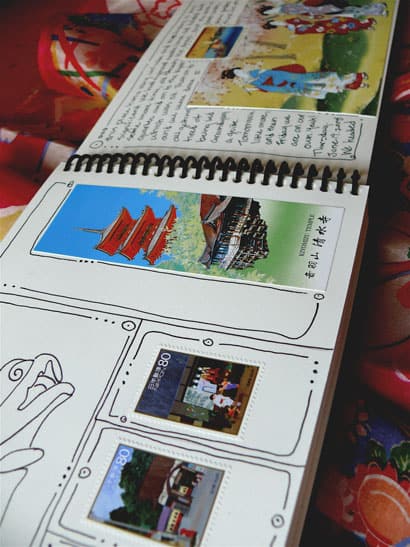 The long view of a couple of pages.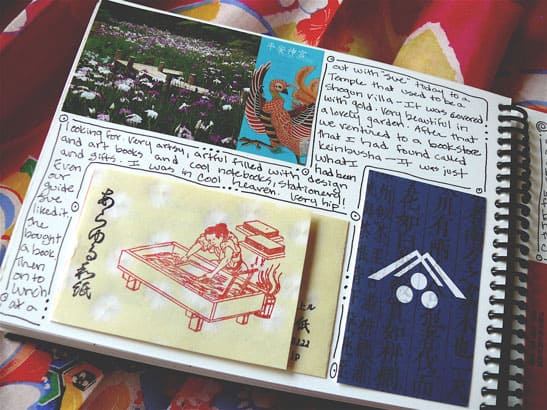 These are a ticket stub from a shrine and park in Kyoto and a little brochure from the wonderful paper store in Kyoto and THE tea place in Kyoto where I bought some lovely green tea.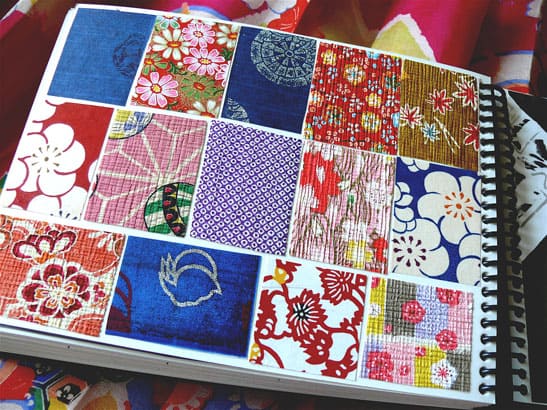 These are samples of some of the papers I bought at Yuzawaya, the 8 story craft store. I also bought some paper in Kyoto. I'll post a blog entry about that later too.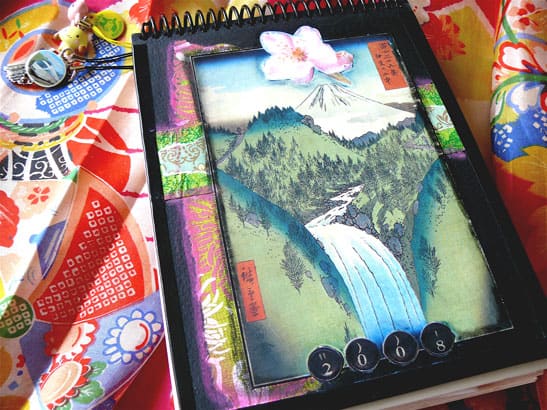 This is the back cover featuring beautiful "Fuji-san", as everyone exclaimed on the cable car as we crested the hill and it came into view in Hakone. Lovely.
That's all for now. More stories to come.