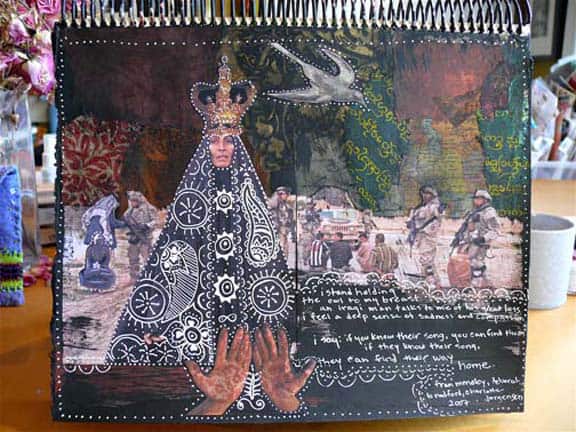 I know this isn't the usual kind of art blog posting. But I am trying to keep it real and decided to share this journal page. I have war dreams. Not every night or even every other night. But I do have them. I am not a news junkie and don't have the TV on very often, and not tuned to CNN. I'm not sure where these dreams come from. Except from where they come from. I had one particularly vivid dream 2 summers ago that has stuck with me. And last summer in a Laurie Doctor workshop I was able to express it in the form of a poem. This was a very powerful experience for me, and the group of artists that worked to create this collaborative poem. 3 of us worked in a group. We each wrote down a dream and then shared what we had written. From that sharing we took a line or two from each person's dream and wrote a "poem". This was ours:
I stand holding the owl to my breast
An Iraqi man talks to me of his great loss
I feel a deep sense of sadness and compassion
I say: if you know their song, you can find them
If they know their song, they can find their way home.
I was really surprised at the depth of emotion this sharing evoked in me. My part of the poem, and the essence of my dream, was of an Iraqi man sharing his losses with me. We cried in the dream and I cried in the workshop. I'm a private cryer, and this public over flow of emotion stunned me. But it all came spilling forth. We talked in the workshop about how art can be a place to put deep emotion. That by writing a poem or doing a journal page, we have created a container for it. In the end this was actually a very uplifting experience for me. It freed me somehow to make the dream more real and less a weight in my subconscious. I thought about this poem all summer and knew I wanted to do a journal page. Another container. There are many war images I could have used, but when I saw this one from Time Magazine (Pictures of The Year 2007 issue, photo credit is, Noor), I knew I had to use it. I had been to Oaxaca in early November and the presence of Our Lady of Soledad (see Oaxaca post), was still with me. This Iraqi woman in the foreground just seemed like a plaintive Soledad. So that's what I made her. The divine feminine in the midst of the war and soldiers and kneeling Iraqi men. I added a Buddah and a dove and my poem. I wanted to add light and hope to this scene and to create a place for my poem. Now it has a place to rest. I can breath. And hope. And hold the light.
And speaking of hope. I have just discovered Phil Roy. I think he's been around for a while. I can hear the eyes rolling in my much hipper friends heads, "old new's Fran." But he's new to me and I am loving his song, "Hope in Hopeless World." The song speaks to me and helps me hold the light on many days when the news just seems so hopeless. Here's a great video of the song:
Keep the hope. Build a good container for all your dreams. Hold the light for the souls finding their way home.