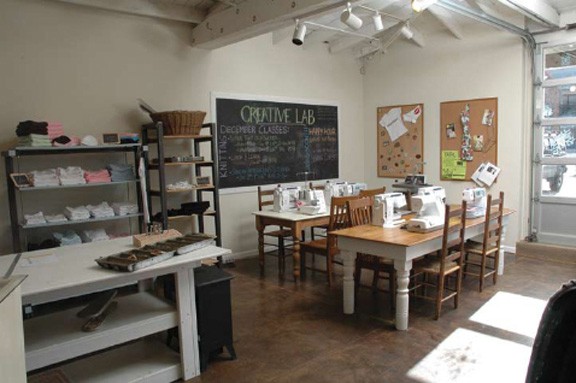 Common Threads – 2707 Spruce Street – Boulder, CO 80302
I love finding cool new stores in my area. Don't have to go to Portland, Seattle or New York. They can be hiding in plain sight, right in our own communities. I love supporting these shops as well. We need more creative, independent businesses forging the way of individuality – the perfect antidote to the strip mall. I found one such shop recently by accident, which is really a comment on how clueless I am, not on their advertising plan. Anyway, while looking for kayaking gear for my daughter (I know!), I came across this little gem.
Common Threads specializes is an interesting combination of recycled fashion (good stuff too), cottage industry products and half their store is what they call "Creative Lab", where you can take classes on embroidery, sewing, knitting, felting and they even have a T-shirt press and leather presses. Cool!
One such cottage industry that is represented is English Retreads.
Here's their story:
Shifting Gears
"Heather English got the idea for English Retreads when she was floating down Boulder Creek on, you guessed it, an inner tube. "€œI needed a new handbag but I was a hardcore vegetarian. I wanted something that was fashionable and invincible—but not made from leather," Heather explains. "I did'n€™t find what I was looking for, so I went to McGuckin's, [a favorite local hardware store] bought some tools and started my own personal sweatshop €"with me doing the sweating." After friends started asking for a bag just like hers, Heather knew she was on to something and English Retreads hit the road in 2001.
Truck stops in the Boulder area supply Heather with the used inner tubes each of which probably has more than 60,000 miles on it before it gets reinvented. "Just think of all the places these tubes have been," says Heather. "Now it's your turn to add to their miles and adventures."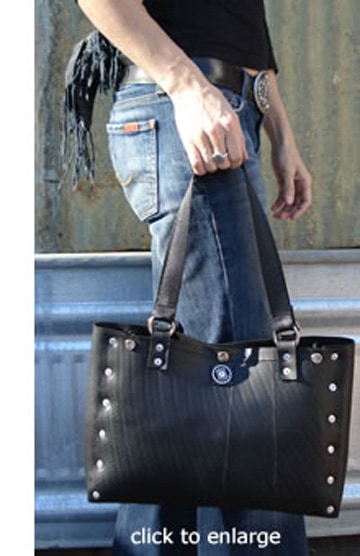 I couldn't resist this cool purse (I am NOT modeling it). Just the right size and it's made from a recycled tire, right here in my community. I just had to share these two sweet little finds with you. And if you don't live here in the state Where The Columbines Grow, you can order their products here.
And BTW – hometown bragging rights here – English Retreads were chosen by the Sundance Channel to be included in the swag bag at the Sundance Film Festive. Tres Chic and very green!