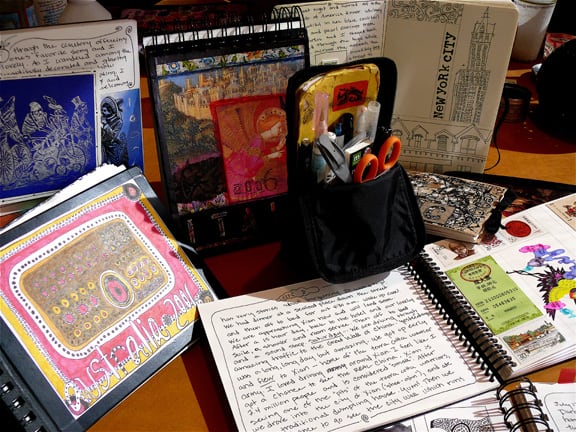 "For every traveler who has any taste of his own, the only useful guidebook will be the one which he himself has written." Aldous Huxley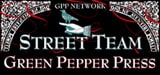 I thought I'd jump right in and respond to Michelle Ward's wonderful GPP Street Team Crusade No. 17 – Pandora's Box – Make a Journal Kit.
I have had the great fortune in the past few years to do a bit of traveling and I've been keeping a travel journal for most of my adventures. I really like a spiral bound journal because you can fold one side under for when you are in small places wanting to write or draw or paste down ephemera, when there is little or no room. Like in a ridiculously small airplane seat or a lovely small café table. It's interesting how sometimes small and cramped is criminal and sometimes it's charming. Anyway, it fits nicely into my travel bag along with my little kit of supplies which I have pared down to include:
Little pointy travel scissors
A Scotch brand paper cutter for when the airport takes away my scissors – very random
A couple of water pens to use with watercolor papers
A regular writing pen
A couple of colored Gelly Roll pens
My trusty Faber-Castell Pitt Artist Pen in the "S" size – super fine – filled with black waterproof India Ink which I can watercolor over without smearing – that's why it's my trusty travel pen of choice
A mechanical pencil with an eraser
A Uni-Ball Signo white pen
A small cocktail napkin, usually from the plane, for drying my water pen
Nicholson's Peerless Water Color papers
Making Memories Alphabet rub-ons
Small glassine envelopes for treasures
All these supplies fit into a "Kokuyo Kaddy Supply Tote", which is a mere 7 ¾" X 4 ¾". Voila! Travel journal kit.
Travel journaling has allowed me to actually remember what I did on my journey and more than that (although sometimes that's plenty), it has deepened my experience while I'm there. There is there, there, and journaling helps me appreciate it, as well as remember it. I think about my children and grandchildren someday reading about these adventures and realize I'm creating a family narrative as well as just journaling my journey.
I realize after perusing other crusading journaler's on-the-go kits, that I need to create a version for my bigger, ongoing journal. I usually work on that in my studio where I have everything at hand. But I think I'd like to get braver and head out into the world for a different kind of everyday journaling. There's lots of there, there….too. I'll keep you posted.
A big thanks to Michelle for this inspired crusade, I have really enjoyed checking in with other people and seeing their journaling kits.